Minnehaha Mandskor
Sioux Falls, SD
News
________________________
John Pollmann Chosen as New Concductor

September, 2019 - With Terry Walter's retirement, we welcome John Pollmann as our new conductor. He has a wealth of experience to draw from as he steps into this new role. He graduated Augustana College with a degree in music education, and taught middle and high school music in SD, for 7 years before accepting a graduate assistantship at Northern Arizona University. While at NAU, he conducted the Freshmen Men's Chorus and assisted with the Shrine of the Ages Choir, Chamber Choir, and the Master Chorale of Flagstaff. In preparing choirs for concerts, he has conducted major works such as Mozart's Requiem and Britten's War Requiem.

You can read more about him in his Member Spotlight here.
________________________
Minnehaha Mandskor Releases First CD
January 2015 - We are so happy to announce that our new CD has arrived. Entitled 'Cry Out And Shout', the album includes 15 of our favorite songs. It was recorded last fall in the chapel at Dow Rummel Village and we now have it available for your listening pleasure. We will have it available wherever we are singing or you can purchase a copy by contacting:
Marlan Velgersdyk
5115 S. Rolling Green Avenue, #210
Sioux Falls, SD 57108
605-371-0669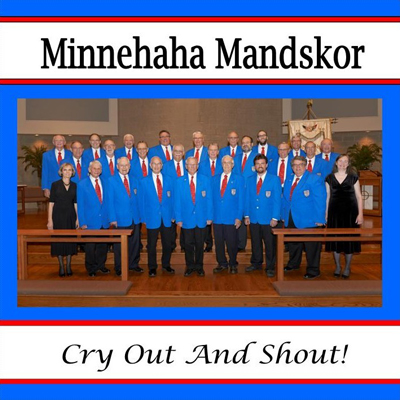 SONG LIST:

Cry Out And Shout
Bless This House
Tonerna
The Lost Chord
On My Way To Jordan
Fader i himlen
Nidelven
How Great Thou Art!
Marching On
We're The Men
Grace
It Is Well With My Soul
Vikingarne
Hallelujah, By and By
God Bless America
________________________
PRESIDENT MARLAN VELGERSDYK ELECTED AS NEW NSAA PRESIDENT

Delegates to the business meeting of the Norwegian Singers Association of America on June 14, 2014 honored the nomination by the Minnehaha Mandskor of Marlan Velgersdyk and elected him as the new NSAA President.

Marlan was born at Hull IA, youngest of four sons. His father immigrated from Rotterdam in The Netherlands in 1909, while his mother was a farm girl from Northwest Iowa.
Marlan graduated from Hull-Western Christian High School, noted for its sports program, but no music!
His wife, Carol, is from Hospers IA. They have two sons and one daughter, six grandchildren and seven great grandchildren.
Marlan joined the Mandskor in 2011. He says, "I'm happy to be part of a Norwegian organization such as NSAA and Mandskor. It promotes quality music and takes responsibility for support of God, family and country."
Marlan retired from full-time employment at the end of July. He says the retirement of a husband is a wife's full-time job.
________________________
Chislic Shack Gets New Trailer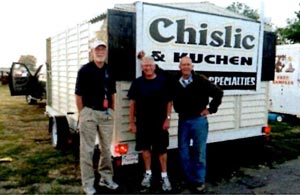 Our chislic shack is on it's new trailer and on the way to the Sioux Empire Fair. Thank you all for working so hard on this project.
_________________________________
Walter elected as associate director
of Norwegian association

Terry Walter of Sioux Falls and a native of Freeman, was recently named the associate director of the Midwest Norwegian Singer's Association of America. She was elected to the post at the association's Sangerfest held in Minneapolis, June 12-14. The association consisted of 10 men's choruses from Wisconsin, Iowa, Illinois, Minnesota and South Dakota. As such, she will work with director in chief Dr. David Judisch, in the planning, programming and conducting at the next Sangerfest, which will be held in Sioux Falls, June 9-11, 2016.
Walter accompanied the Minnehaha Mandskor from 1989 to 1996, and has served as its conductor since 1996. She is the director of the Sioux Valley Singers, which consists of the Mandskor, the Nordic Male Chorus from Sioux City, the Grieg Chorus from Canton, and the Norse Glee Club from Sioux Falls. The Sioux Valley Singers will have their Sangerfest in Sioux City, in June of 2015.
__________________________________________