Minnehaha Mandskor
Sioux Falls, SD
MANDSKOR NEWS FROM THE SANGER-HILSEN
____________________________________________________
VOLUME 110, NO. 1 DECORAH, IA Jan.-Feb. 2020
MINNEHAHA MANDSKOR
Sioux Falls, SD
The Mandskor has been on break for December and January, resuming their regular rehearsals, February 3, 2020. This writer and husband, after spending 3 months in Arizona, returned to South Dakota with a bumper crop of citrus. It was our fortune to be able to stop by as the chorus reconvened. We were able to share the Arizona bounty with the members.
Since there is no news to report from the chorus, I will share that we had the pleasure of entertaining Richard and Penny Leake (Luren Chorus, Decorah) at our Arizona home, during December. We enjoyed 2 good visits with them. Then in January, we encountered (Luren Chorus conductor) Dr. David and Gail Judisch at church. David was the guest soloist at American Lutheran Church in Sun City, that Sunday. They were enjoying time with his sister in Sun City Grande.
After a week in South Dakota, we started our return trip to Arizona, via Texas, and a visit to family there. The weather has been cold and we even encountered snow in New Mexico. It felt like we were driving north by mistake. Since our return, we have had the pleasure of spending time with (Nordic Male Chorus, Sioux City, IA, conductor) Chuck and Shirley Schuett. They were spending several days with mutual friends of ours who happen to live in our neighborhood on Desert Harbor Lake in Peoria Arizona.
Though we are back to our Arizona home, we keep the choruses close in heart and mind. May you all have a good season of singing and preparation for the 2020 Sangerfest!
____________________________________________________
VOLUME 109, NO. 6 DECORAH, IA Nov.-Dec. 2019
MINNEHAHA MANDSKOR
Sioux Falls, SD
The Mandskor fall schedule found them performing at First Lutheran Church, Sunday afternoon November 17, as part of the annual Festival of Men's Voices. Selections sung were "Steal Away", "Bright Morning Stars", and "Get Me to the Church". This concert benefits a local soup kitchen called The Banquet. Several men's choirs from the Sioux Falls area participate. The chorus also sang a concert for the residents at Bethany Meadows retirement community in Brandon SD, Monday, November 25.
Results of the October election have delivered the following slate of officers: President, Ray Schnabel; Vice President, Derrick McKenna; Secretary, Bill Schoep; Treasurer, Bruce Duncan; Corresponding Secretary, Terry Walter; Librarian, Bill Schoep; Marshal, Roger Amdahl; Board members, Jon Christopherson, Tony Leggett, Larry Luinenburg.
The chorus Christmas party was held, December 3, at the Sioux Valley Energy facility in Brandon, SD. The evening included a meal by Tony's Catering and music provided by John Pollmann and Deanna Wehrspaan. There was also a time of singing by all in attendance.
____________________________________________________
VOLUME 109, NO. 4 DECORAH, IA July-Aug. 2019
MINNEHAHA MANDSKOR
Sioux Falls, SD
Although the summer season is a break from rehearsals and concerts, it is not a break from activity. The Mandskor met for their annual picnic on Sunday, July 25, at Terrace Park. President Larry Luinenburg introduced John Pollmann as the new director. (More about John in a New Conductor Spotlight.) After a 6:00 PM potluck and some discussion about our chislic venue at the Sioux Empire Fair, we were able to stay for the Sioux Falls Municipal Band concert at 8 PM.
The Fair began, Friday, August 2, but work began earlier that week. Don Cooper, Jerry Muchow and Roger Amdahl towed the concession stand from its storage location courtesy of Anita Preheim. This is a pre-dawn event to avoid traffic. The exercise is repeated in reverse after the close of the Fair. Dedicated singers and auxiliary women clean and stock the concession stand in time for the first dozen chislic* to drop into the sizzling oil.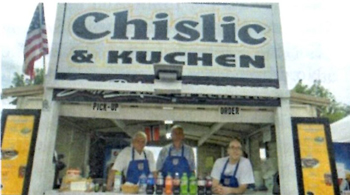 Jim Pollmann, Don Cooper, Derrick McKenna on the
opening shift at the fair. Photo by Terry Walter.
The effort reaped record sales this year from the very start. This is the 8th year of Fair participation by the Mandskor. For more coverage, visit our Facebook page.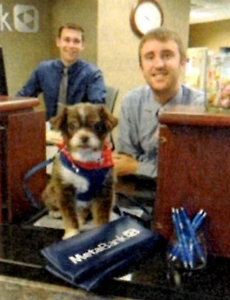 Mandskor mascot Winston is
depositing money from sales at the
Chislic concession stand.
Plan s are underway for another fall trip to Minneapolis, October 5-6. This year, we will attend MAMA MIA at the Chanhassen, LOONEY LUTHERANS at the Ames Center, sing at St. Stephen's :Lutheran in Bloomington and visit the Minnesota Landscape Arboretum.
*Chislic is the official South Dakota "Nosh" or snack food. Cubed lamb on a stick came to SD, with immigrants from Russia and the word is derived from a Russian word for shish kabob. It is decidedly not Norwegian, but it is wildly popular in the southeast part of the state and successful marketing "translates" into generous profit. That's a language we all understand.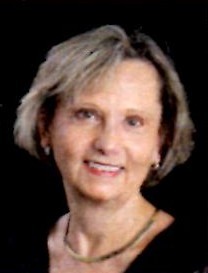 Terry Walter, Corr. Sec.
New Conductor Spotlight
John Pollmann will take the podium as conductor of the Mandskor when rehearsals begin, September 9. He graduated Augustana College with a degree in music education, and taught middle and high school music in SD, for 7 years before accepting a graduate assistantship at Northern Arizona University.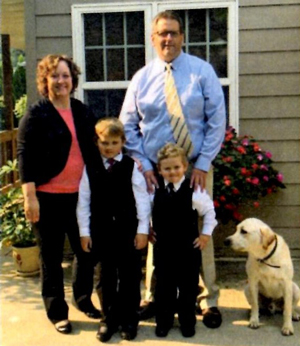 Amber and John Pollmann, with sons Miles and Max.
While at NAU, he conducted the Freshmen Men's Chorus and assisted with the Shrine of the Ages Choir, Chamber Choir, and the Master Chorale of Flagstaff. In preparing choirs for concerts, he has conducted major works such as Mozart's Requiem and Britten's War Requiem. He ranks performing with the Shrine of the Ages Choir at the Western Division American Choral Directors Association convention in Anaheim, CA, as a highlight of his career as a singer.
Mr. Pollmann has been a teacher for 20 years, the last 11 of which have been at Pipestone, MN Area Middle and High School. His second career is as an outdoor writer, with over 500 articles published in local, regional and national publications He has a passion for conservation and the outdoors, particularly upland bird and waterfowl hunting, having traveled across North America in pursuit of both.
Most important to John, are his wife of 11 years, Amber, their 2 sons Miles (8) and Max (4), and John's father James who sings bass with the Mandskor.
Mandskor Reflections on 30 Years
by Terry Walter
Dennis Barbaal suggested that I submit some memories of time with the Mandskor. They are many and precious. The chorus has become family to my husband and me. When I submitted my resignation, I felt a deep and profound sadness. But it is my feeling that even though change is hard, change is good.
I'm excited for the opportunities this time might give us to travel. (I'm told one needs to do that before one lacks the time or the money because the strength is the most important.) And I'm excited for the opportunities it will give the Mandskor to grow and thrive under new, capable and younger leadership.
I came to the Mandskor as their accompanist in the fall of 1989, when Eileen Farnsworth retired after some 50 years with the group. After playing for a performance by the Sioux Falls Centennial Choir conducted by local radio/TV personality Ray Loftesness, I was working my way through the Arena when I felt a tug at my suit jacket.
Two gentlemen from the Mandskor had heard me play and were pursuing me through the crowd. It was Willis Muchow and Les Farley. They said they were looking for an accompanist for the Mandskor and could I come on Monday night. Having just given up playing with the Sioux Falls Municipal Band, I had Mondays available. At rehearsal, I learned that Ken Mannes was the conductor. This was a familiar face from Freeman, SD. Ken and I worked together well. The chorus met on the 4th floor of the Bergland Center for Seniors, in downtown Sioux Falls.
The fellows were good about making sure that I got to my car after rehearsal without incident. Roger Amdahl is the only member of the group I met 30 years ago, who is still an active member. Jerry Muchow joined soon after I was hired and we attended our first Sangerfest in Madison, WI, in 1990.
Ken Mannes retired in 1993, and Mark Adams came aboard. Mark was not a good fit for the choir and the membership soon severed his contract,. Harlan Hallstrom stepped up from the baritone section to be the next director, but in February of 1996, within months of taking the baton, he became critically ill. His wife Bev called and asked if I could manage rehearsal from the piano. I did that and continued to conduct with Eileen Farnsworth returning to the piano bench.
Harlan never returned to the Mandskor,. He passed away that spring., The search was on for a conductor. Rex Livermore stated that he "kinda liked Terry where she was". The chorus agreed and turned their focus to a search for an accompanist. Several women came to audition. Eileen sat in on these auditions to offer guidance. Some candidates were good pianists but were not good accompanists. One was competent but played too loud and it was also noted by one member that she sat funny. It was comical at the time but showed just how important it was to the chorus to find exactly the right person for the job.
Jake Muchow was singing with us briefly, but long enough to tell us that Deanna Wehrspann was back in Sioux Falls and playing for the choir he sang with at Our Savior's Lutheran Church. He had already asked her if she was interested and she was. She came to audition and when I cut off the group to go back to rehearse a specific phrase, Deanna was already at that spot. It was a match made in heaven.
I was the accompanist for the Elks Chorus for 23 years and when my husband Don Cooper and I were married in 1990, they sang at our reception . The Mandskor joined them to delight our 300 guests. It was some years later that Don became a regular member of the Mandskor., Because of a shortage of tenors, he sang for awhile as an unofficial member, until taking the full plunge.
There were 8 to 12 singers at any given rehearsal when I became director. By inviting children with connections to the chorus to join the group for some concerts, a new feeling of energy and hope was brought to the organization. It grew to 29, but due to attrition and some resistance to sing Norwegian, the group has not reached 30.
Several things have given the group cohesion in the last years. Fund raiser meals hosted at our home were a way to boost the Mandskor bank account when interest rates fell,. We sold tickets for a gourmet dinner prepared by my husband and me. Fun filled evenings included white elephant auctions, games and even a mock wedding ceremony for two newly married couples in the chorus. Couples promised to love, honor and cherish and Mandskor and to affirm their vows by answering, "Ja, sure, you bet cha!"
Bob and Arlene Stenberg hosted a Danish meal with many courses. They appeared in traditional costume and taught us the art of "Skoal!" Our beer mug was never to be less than half full so we would always have enough to join in a toast. The annual trips to Lincoln NE; Minneapolis MN; and Pierre SD, with sight-seeing and performance opportunities have done much to foster a feeling of camaraderie.
In 2001, then President Ron Beck arranged for the Mandskor to take a Caribbean Cruise. The waffle brunches and ultimately the chislic stand at the Sioux Empire Fair (a brain child of Kirk Preheim) have been vital to the financial health of the chorus.
Since Kirk's death, my husband Don has handled ordering the product and has worked many shifts at the fryer and as general repair man when electrical or plumbing issues arise. He was the first Gourmet Guys chef from the Mandskor. Participating in this fundraiser by Active Generations is a way for the chorus to show its appreciation to the Center for allowing us to rehearse and keep our music in their facility.
For many years, Don and I hosted a Christmas sing-along at our home, the first Saturday of December. We had as many as 85 people gathered to sing, eat, and sing some more. The Mandsksor was part of this evening. When we moved not once, but twice, Bob Stenberg and Roger Amdahl came with pickups and strong arms.
Roger Amdahl and Jerry Muchow worked for several years alongside us as we renovated numerous properties in Sioux Falls and AZ. The chorus has been with us through the happiest and most difficult times of our lives, singing for my parents when they were in the nursing home as well as at their funerals and at that of Don's brother-in-law. But then, that's what families do.
In addition to my Mandskor memories, I have fond memories of the Sioux Valley Singers and the larger NSAA group. It has been an honor to be elected to conduct both groups. My sincere thanks to all who placed their confidence in me. I've been humbled by your support and you have my very best wishes.
I have often said that I was never happier than when I was conducting the Mandskor. Bringing life to a beautiful piece of music is a distinct feeling of euphoria and men's voices are my favorite medium. I have been moved to tears on many occasions. While the time has come for retirement, and Lord willing, more travel and more Arizona time (we love company and invite you to visit us), Don and I intend to remain connected and of service to the Minnehaha Mandskor. Philippians 1:3
____________________________________________________
VOLUME 109, NO. 3 DECORAH, IA May-June 2019
MINNEHAHA MANDSKOR
Sioux Falls, SD
The Minnehaha Mandskor has had a great Spring season of song. We sang concerts at Dow-Rummel Retirement Community, May 2; Trail Ridge Retirement Community, May 9; and the annual Syttende Mai Dinner at First Lutheran Church Reformation Hall, May 17.
In addition to those scheduled events, we were honored to be invited to sing at a banquet for Honor Flight participants, Monday evening, May 6. The event took place at the Sioux Falls Convention Center on the eve of their flight to Washington, DC. Among the 83 honorees was Mandskor member Jim Pollmann. He reported a well-organized trip for the three WWII, and many Korea and Viet Nam veterans. A visit to our Facebook page will reveal footage of our performance that evening.
At rehearsal, April 29, president Larry Luinenburg read a letter from director Terry Walter, stating her intent to retire from conducting the Mandskor at the end of the current season. She will continue to participate in the auxiliary and she and her husband Don Copper, who is retiring from singing, will be helping with the Sioux Empire Fair activities. Terry has agreed to continue to plan the Mandskor's fall trips and to write the Sanger Hilsen articles for the foreseeable future. Their hope is to spend more time at their Arizona home.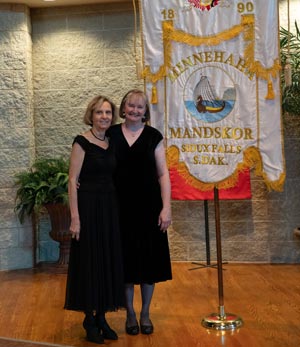 Director in Chief Terry Walter and
Accompanist Deanna Wehrspann.
The Mandskor hosted the 51st Biennial Sioux Valley Sangerfest at Brandon Lutheran Church, Saturday, June 8, 2019. The morning business meeting included discussion of limiting songs sung in a Scandinavian language to 2 songs. (This year's program used five.) There was some objection, but a motion passed to limit the number to 3. Our choruses are all declining in numbers and it becomes a choice of singing more English or not having a chorus. The proverbial "rock and hard place" are where we are finding ourselves
In other business, Guy Bergren from Canton became the new president; Ed Stone from Sioux City, took place as vice president; Jerry Holter from Canton is the new secretary; Curt Hepner from Canton is now marshal and David Stene of Sioux Falls, remains treasurer. Terry Walter's retirement prompted the election of Jacob Huber to the Sioux Valley podium, with Lyle Kroon as associate director.
Sangerfest activities for the ladies included a luncheon with guest speaker Holly Hoffman, the Eureka, South Dakota woman who became one of 4 finalists on the TV show "SURVIVOR", in July 2010. Hers is an inspirational story of faith.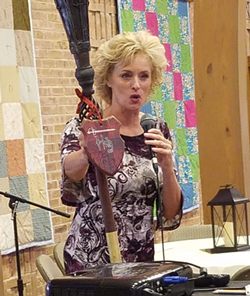 Holly Hoffman, of "Survivor" fame,
speaks at the ladies luncheon.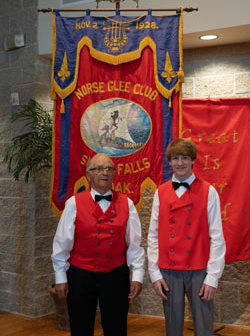 Warren Eitreim and Charlie Espeland were the
oldest and youngest attendees at the 2019 Sioux
Valley Sangerfest. Both are with the Norse Glee Club.
We had an excellent time at rehearsal in the afternoon. Our 5:30 PM concert was preceded at 4:30, by a memorial service and awards ceremony. Participants then proceeded to the buffet dinner where president Ray Schnabel delivered introductions and acknowledgements. Gospel Gold Quartet, 3 of whom are Mandskor members Dennis Wollman, Bill Schoep and Bob Viet, with Terry Walter accompanying, performed a short and lively program to end the day.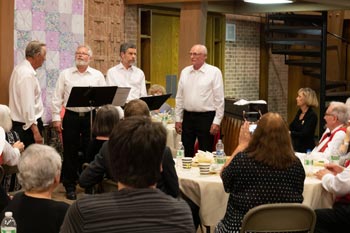 The Gospel Gold Quartet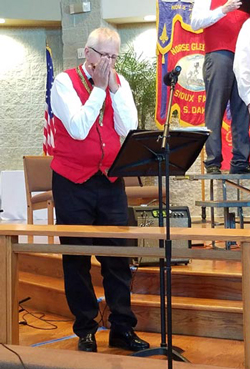 Hans Peterson adds harmonica to
a couple of songs.
We are now on break from rehearsals but look forward to working together in our Sioux Empire Fair concession stand, in August. Our summer potluck is scheduled for July 21, at Tuthill Park. The location makes for a nice segue from dinner and business meeting to a concert by the Sioux Falls Municipal Band in the park's band shell.
Respectfully submitted,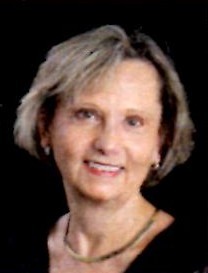 Terry Walter, Corr. Sec.
____________________________________________________
VOLUME 109, NO. 2 DECORAH, IA Mar.-Apr. 2019
MINNEHAHA MANDSKOR
Sioux Falls, SD
The Mandskor is well into rehearsals for the 2019 Sioux Valley Sangerfest. Our committees are actively preparing for the event which will commence on June 8, at Brandon Lutheran Church in Brandon, SD.
We have had one joint rehearsal hosted by the Grieg Singers at Canton on March 11. It was our pleasure to meet their new director Jacob Huber who has a wealth of knowledge to share with us regarding the Scandinavian lyrics of many of our songs. It was a particular pleasure for this writer to learn that his parents come from my home community and I actually know his grandmother. (It's not that I'm old, it's just that he's very young!) Our next combined rehearsal will be in Sioux City, April 15.
We have scheduled performances May 2, at Dow-Rummel Retirement Community; May 9, at Trail Ridge Retirement Community; and May 17, for the Sons of Norway Syttende Mai Banquet.
Our chorus is again contributing to the Active Generations (local senior center where we rehearse) annual Gourmet Guys Event, April 28. Approximately 35 chefs prepare and serve samplings of their recipes. There are prizes awarded with judging by local professionals. This is a huge event with ticket sales reaching 600 or more in years past. That translates into a lot of food prep for the chefs, and a lot of profit for Active Generations. We are pleased to be a part of something that benefits an organization that has been so good to us over the years.
As for local news, we've experienced the flooding that has afflicted much of the Midwest, but certainly not as severely as have other communities. We are blessed that the rains and fast melting have not dampened our spirits.
Respectfully submitted,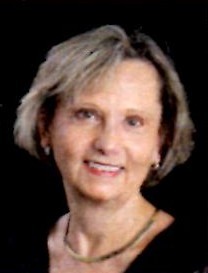 Terry Walter, Corr. Sec.
____________________________________________________
VOLUME 109, NO. 1 DECORAH, IA Jan.-Feb. 2019
MINNEHAHA MANDSKOR
Sioux Falls, SD
Greetings and salutation for 2019! We are well into the new year. However, at this writing we have yet to have reconvened due to the extreme cold and snowy conditions. We are respectful of the weather and the dangers it imposes on those who drive some distance to be part of the Mandskor. Even those of us who live in close proximity to our rehearsal venue are happy to stay home these days.
We anticipate the upcoming joint rehearsals and preparation for the Sioux Valley Sangerfest to be held in June of 2019. Also in our future is a May concert at Trail Ridge retirement community.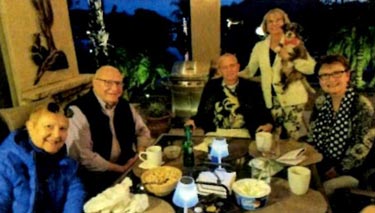 Shirley Shookman, David Judisch, Don Cooper,
Terry Walter with Mandskor mascot Winston
Kittelson, and Gail Judisch at Desert
Harbor AZ in January 2019
This writer and her husband have returned to the frigid winter landscape after 2 months in AZ. Mandskor Mascot Winston Kittelson was our guest for the duration. We so enjoyed having him with us and he thrived, as did we, in the mild climate. While there, we were fortunate to have as our guests Luren director David Judisch, his wife Gail, and David's sister Shirley Shookman.
If "no news is good news", then all is well with the Mandskor. We sincerely hope that we have more to report at the publishing of the next issue of SANGER HILSEN.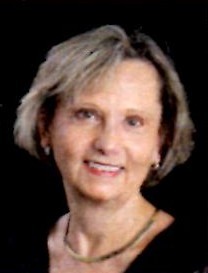 Terry Walter, Corr. Sec.
____________________________________________________
VOLUME 108, NO. 3 DECORAH, IA May-June 2018
MINNEHAHA MANDSKOR
Sioux Falls, SD
As I begin this submission to the Sanger Hilsen, I am still basking in the afterglow of Sangerfest. Congratulations and gratitude are extended to the Luren Singers. Congratulations on their milestone anniversary and their excellent planning and execution of Sangerfest 2018. Gratitude for all the demanding work (we still remember from 2 years ago) and the warm welcome extended to all of us. Roger Buhr did a commendable job as NSAA president and his support team did not disappoint.
We had 17 singers in attendance for the Parade of Choruses but not all chose to stay for the entire weekend. Jerry Muchow and Terry Walter received gold medals for attending 15 Sangerfests.
Prior to making the trip to Decorah, we finished the season with a joint Sioux Valley rehearsal hosted by the Nordic Male Chorus in Sioux City, April 23, and another in Sioux Falls, hosted by the Mandskor, May 21. We participated in worship at Brandon Lutheran Church, Brandon, SD, May 20. Our accompanist Deanna Wehrspann had responsibilities at her own church, so Terry Walter moved to the piano bench and Hans Peterson rose to the podium. Hans is part of our bass section and is also the choir director at Brandon Lutheran.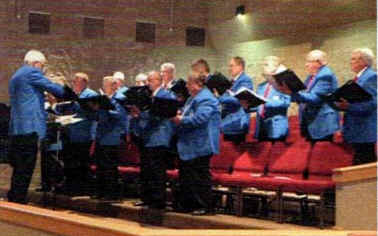 Hans Peterson directing Mandskor at Brandon Lutheran
While we are officially on vacation from singing, we have tentative plans for a summer picnic July 29, and will again become temporary "carnies" as we open our chislic stand during the 10 days of the Sioux Empire Fair, August 3-11. This is a lot of work, but also a lot of fun. It provides us with opportunity to work more closely with our fellow singers and auxiliary members and is a bonding experience of sorts. We've done very well with this project for the last six years.
I want to thank the Sioux Valley Singers and my conducting colleagues for a good year of rehearsals in preparation for Sangerfest. And to Lane and Ranae Karli, thanks for the memories! Many good wishes go with you as you move to your new home in Omaha, find new musical outlets, make new friends and relish in your family. Their gain is our loss. We'll miss you both.
A personal note of thanks to all who made my terms as associate conductor so enjoyable. As I was once again conducting The Lost Chord, I truly wished that time could stand still. It was a moving experience for me as this year I knew somehow that my parents were sitting together in heaven observing everything. They were my biggest cheerleaders. They raised me in a small country church where singing was a big deal. For this and much more, I am profoundly grateful.
Respectfully submitted,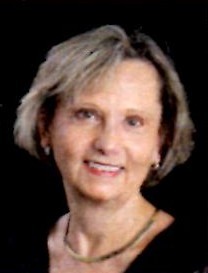 Terry Walter, Corr. Sec.
Obituary
Olin E, Opstedahl died April 21, 2018 at Sioux Falls, SD at age 91. He was the son of Henry and Ethel (Rogen) Opstedahl, born on May 3, 1927 on the family farm. He attended country school in Highland District 45 and high

school in Sherman SD, and graduated from Jasper High School, Jasper MN. Olin then served in the Army during WWII.
After the war, Olin returned to the family farm which he operated until 1988, when he moved to Sioux Falls. He was married to Josephine Darger, and the couple made their home in Sioux Falls. She died in 2014.
Olin was a long time member of the Minnehaha Mandskor and served for many years as its librarian.
He was preceded in death by his parents, his wife, a sister Elaine Quissell, a great niece Jodi Quissell, and nephew Dennis Quissell.
____________________________________________________
VOLUME 108, NO. 2 DECORAH, IA Mar.-Apr.2018
MINNEHAHA MANDSKOR
Sioux Falls, SD
The Mandskor is looking forward to Sangerfest 2018, which is rapidly approaching. We are rehearsing vigorously. The joint rehearsal to be hosted by the Norse Glee Club was first postponed due to the death of Terry Walter's mother. Mandskor had a private rehearsal instead to prepare for participation in the funeral, March 3. The following week, we we were forced to cancel rehearsal due to weather conditions. We enjoyed a joint rehearsal hosted by the Grieg at Canton, March 26, Our next Sioux Valley collaboration will take place April 23 in Sioux City hosted by the Nordic Male Chorus.
Easter is always a special time of year, and this year the writer was particularly blessed to be able to attend the reenactment of The Lord's Supper at Brandon Lutheran Church, March 28. Our own Hans Peterson directs the choir there and his wife Geri provides accompaniment. There were six Mandskor members singing in the choir. Maundy Thursday, she attended the Easter Cantata at First Reformed Church, where two more Mandskor singers were participating and Lyle Kroon was the director. Both served to prepare hearts and minds for the Easter weekend.
Some of us took in the Sons of Norway Torsk dinner, March 23, either by working as servers or attending as guests. It was a grand evening with ca. 600 people lined up to feast on the food of the gods.
The Active Generation (Senior Center where we rehearse) is having its annual Gourmet Guys fund raiser, April 29. The Mandskor will again provide one of the featured chefs who will prepare 600 or more bite-sized servings of a culinary work of art. This year Larry Luinenburg and Bruce Duncan will represent us.
We have some illness affecting the group in the way of normal winter colds. Member Eldon Anderson has been absent after surgery to have malignant tissue removed from his lip.
We await the return of the Amdahls and Muchows from their winter hiatus in Mesa, AZ. They are opting to lengthen their stay this year, but we keep the porch light on and the yellow ribbons on the oak tree.
Winter has reared its ugly face again the first week of April. Temps as low as 5 degrees remind us to lay aside those thoughts of spring that are wont to distract us. And as of this writing, April 15, we have just survived a spring blizzard, leaving us with a foot or more of very heavy snow. This year, Spring is a matter of faith and not sight.
Resctrully submitted,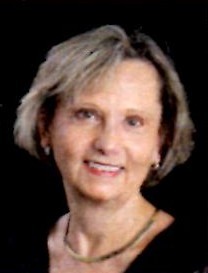 Terry Walter, Corr. Sec.
Joke (courtesy of Joel Wehrspann at our April 2nd Minnehaha rehearsal)
Ole is arrested for shoplifting a can of peaches. The judge asks him how many peaches there are in the can. Ole responds that there are 10, so the judge doles out the sentence. "For each peach, one day in jail." To which, Ole's wife Lena feels called to interject, "Ole also took a can of peas."
____________________________________________________
VOLUME 108, NO. 1 DECORAH, IA Jan.-Feb.2018
MINNEHAHA MANDSKOR
Sioux Falls, SD
Greetings for the new year, 2018! The Mandskor has only met for a couple of rehearsals thus far, but we expect to have a good season. Our fortune would be improved were we to attract a couple more second tenors. Such is the fate of choirs in general. We are always coveting one more singer. After only one rehearsal, we had gotten through the Sangerfest music. That sounds commendable and perhaps it is; however there is a downside. We were missing some singers. Some didn't choose to brave the SD weather; others are more attached to the weather in AZ. Both are understandable situations.
This humble correspondent and conductor has not set up any singing engagements at this writing. She chooses to wait until we have a better command of the new things in our folder. We do have out joint rehearsals with the Sioux Valley Singers set up. As per the early Sangerfest, our combined efforts will begin a month earlier with the Norse Glee Club hosting us, February 26.
The South Dakota Chorale (of which our accompanist Deanna Wehrspann is a founding member) was nominated in four categories of the 2018 Grammy awards, including Best Choral Performance, for the album "Tyberg Masses" - music written by Marcel Tyberg, who perished in the Holocaust and whose music was only recently discovered.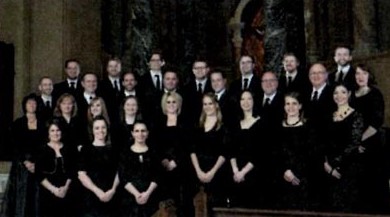 South Dakota Chorale. Deanna Wehrspann is
pictured in second row, fourth from left.
While the Chorale did not win a Grammy, there are over 10,000 submissions for the 84 categories of awards; being chosen as one of only five nominations in these categories is truly an honor.
Now, in the style of our former bass and corresponding secretary the late Bob Stenberg, a personal note. We are having winter in SD. Weather being what it is, it fluctuates. Here, it is cold one day and colder the next. One must ask oneself why we put up with this nasty gift of nature. In my case, I was lucky enough to escape for 2 months, to AZ, where there are as many or more Norwegians as there are in Sioux Falls. While there, my husband and I, though not Norwegian, attended a Norwegian dinner hosted by our neighbors, who aren't Norwegian either. I helped make the lefse for the meal.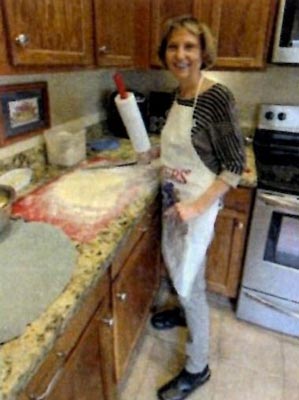 Apprentice lefse baker Terry Walter.
Also , while in AZ, we hosted David and Gail Judisch, who also aren't Norwegian, for an afternoon boat ride and some Sangerfest conferring.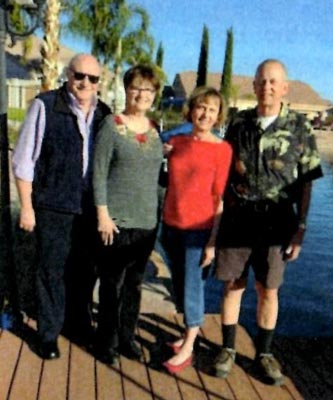 Dave and Gail Judish, Terry Walter
and Don Cooper at dockside.
It is somewhat curious that so many of us of another ancestry participate with such enthusiasm in the traditions of the Scandinavians. It happens with such frequency that we have come to be known as "social climbers."
May you all have a good season of singing, safe travels to and from rehearsals and concerts and a spare pair of long johns to keep you warm until spring.
Respectfully Submitted,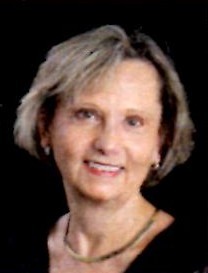 Terry Walter, Corr. Sec.
____________________________________________________
VOLUME 107, NO. 6 DECORAH, IA Nov.-Dec. 2017
MINNEHAHA MANDSKOR
Sioux Falls, SD
Greetings from the Mandskor for a Blessed Christmas! While many choirs are busy with performances in December, we finished ours in November. We find that preparing Christmas music uses a lot of our fall rehearsal time and takes away from Sangerfest preparation. Performing heavily in November also allows our snowbirds to participate before they leave. This has been working for us in recent years.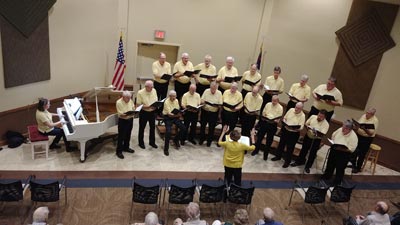 Mandskor at Trail Ridge Retirement Community

We sang at Dow-Rummel Retirement Community, October 30; for the Festival of Men's Voices, November 12; at Bethany Meadows Retirement Community in Brandon, Nov. 19; and at Trail Ridge Retirement Community, November 20. Our Christmas dinner was held at the Sioux Valley Electric Building near Brandon, November 27. We enjoyed appetizers, a catered meal, and entertainment by Mogen's Heroes. Mandskor member Bill Hoffman sings with the Heroes, who were recently named to the Rock and Roll Hall of Fame. Mandskor bass Bob Viet joined the Heroes in a stellar performance of Jim Reeves' hit, "He'll Have To Go." That was a special treat!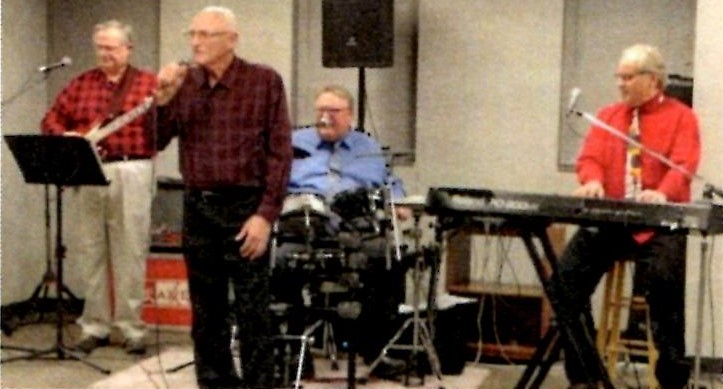 Bob Viet singing with the Heroes,
with Bill Hoffman on percussion.
May this be a Season of Joy for us all as we celebrate the birth of our Savior!
Respectfully Submitted,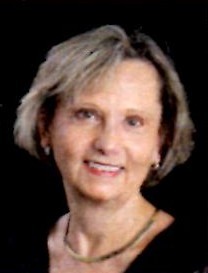 Terry Walter, Corr. Sec./ Dir.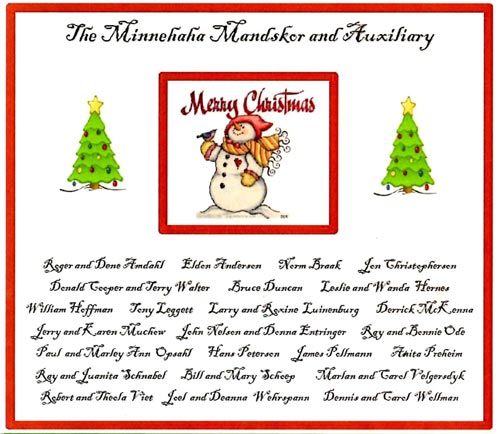 ____________________________________________________
VOLUME 107, NO. 5 DECORAH, IA Sept.-Oct. 2017
MINNEHAHA MANDSKOR
Sioux Falls, SD
The Mandskor is happily reconvened and preparing for our trip to Minneapolis, October 21-22. This year, we will go via Dassel, MN, where we will do an afternoon concert, Oct. 21. Dassel is the hometown of member Hans Peterson and wife Geri. Also included in the itinerary is a show at Plymouth Playhouse and a brunch cruise on Lake Minnetonka.
Our group is having its share of sadness and illnesses. Dene (Roger) Amdahl took a serious fall and dislocated a shoulder. She is at Luther Manor for rehab. Marlan Velgersdyk is recovering from his surgery earlier this summer, his wife Carol is now recovering from hip surgery and they are both grieving the sudden death of their son Michael.
Ron Beck, who has been living in Dell Rapids, has moved to be with a son in Montana. As a chorus, we grieve with those in our group who are experiencing difficulties and rejoice together in the glad times. These days, we are praying for one another.
We will have our annual Hobo Stew supper, Monday, October 9. Tradition demands that each member bring a canned good to throw into the pot. Our auxiliary prepares a hamburger base to which the rest of the ingredients are added. The result is always better than the year before. One year, a new member brought a can of peaches to contribute. He never lived it down. A couple of years ago, another new (younger) member added hot sauce. You can imagine that the Norwegian palate does not respond well to such a stimulant.
Director Terry and husband Don have been spending some time in AZ, so Hans Peterson and Bill Hoffman have taken care of rehearsing the chorus. The group will participate in the Festival of Men's Voices, November 12, at 2:30 PM, at the O'Gorman Performing Arts Center. This is an annual event that benefits The Banquet. A free will offering is collected. There is no admission charge.
We are in the process of scheduling concerts. Visit our website <minnehahamandskor.org> for updates.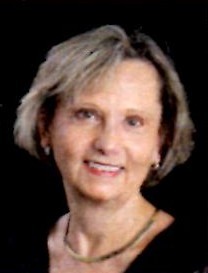 Terry Walter
____________________________________________________
VOLUME 107, NO. 4 DECORAH, IA July-August 2017
MINNEHAHA MANDSKOR
Sioux Falls, SD
The Mandskor and Auxiliary gathered for a summer picnic, Sunday, July 30. We had a reserved shelter at Terrace Park. This enabled us to have our meal and meeting at 6:00 PM, and take in the Municipal Band Concert at 8:00 PM. It was a beautiful evening and we had a good attendance.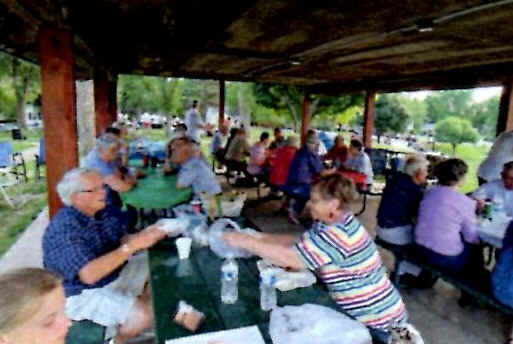 Mandskor & Auxiliary summer picnic

Much preparation is necessary to make our chislic stand a success. Preparations to move the shack to the Sioux Empire Fairgrounds began a week before opening day. The fair ran August 4-13. We are fortunate to have willing workers to divide the tasks. We did find ourselves short nearly a dozen people from last year. This is due to attrition, illness, and age. It's clear to us that we need to find more members and younger members to continue this very successful venture. So far, we are about $1000 ahead of last year's sales. Weather has been beautiful and may contribute to the increase.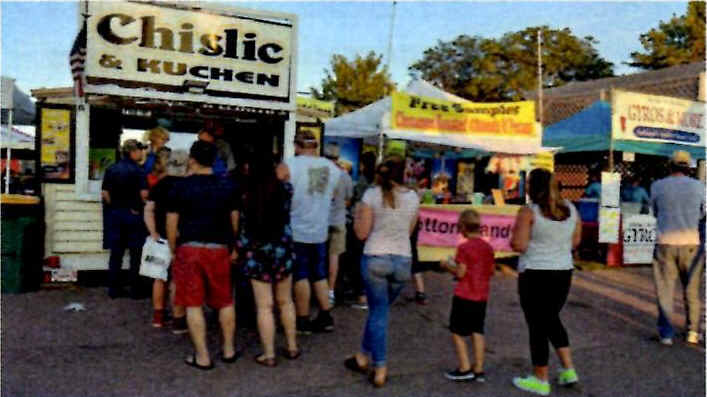 Customers at Mandskor Chislic stand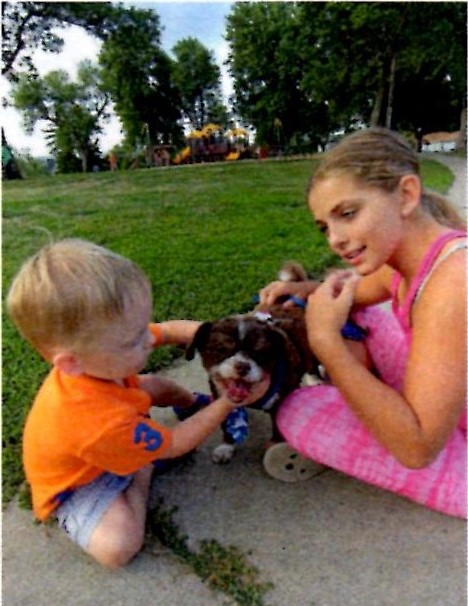 Mandskor mascot Winston Kittelson makes
friends with Eli (son of Tony and Bobbie Jo
Legget) and Megan Brandsma (granddaughter
of Jerry and Karen Muchow) at Mandskor
summer picnic.
It being our summer break, we don't have much to report, but we are glad to share that past president Marlan Velgersdyk is recovering nicely after a serious surgery in June. He hasn't been selling chislic for us this summer. Wild horses couldn't keep him away in the past, so we know that he must still be in recovery mode.
We look forward to more nice weather, some much needed rain, and our reconvening after Labor Day.
Respectfully submitted,

Terry Walter
P.S. We just received word that the youngest son of Marlan and Carol Velgersdyk, Michael, died Tuesday, Aug.22nd at Lincoln NE. He was 47. (Editor)
____________________________________________________
VOLUME 107, NO. 3 DECORAH, IA May-June 2017
MINNEHAHA MANDSKOR
Sioux Falls, SD
The Mandskor has had a good spring. We've had some absences but we power on. Director Terry took leave for AZ for a couple of weeks, with Bill Hoffman moving ably to the podium. May 1st, had us presenting a concert at Trail Ridge Retirement Community. Our own Joan Rasmusson, widow of John (past corresponding secretary) is a resident there and is one of our biggest cheer leaders.
May 8th we hosted a combined rehearsal of the Sioux Valley Singers. May 16th we performed at the annual Sons of Norway Syttende Mai Banquet. The event took place in the Reformation Hall at First Lutheran Church.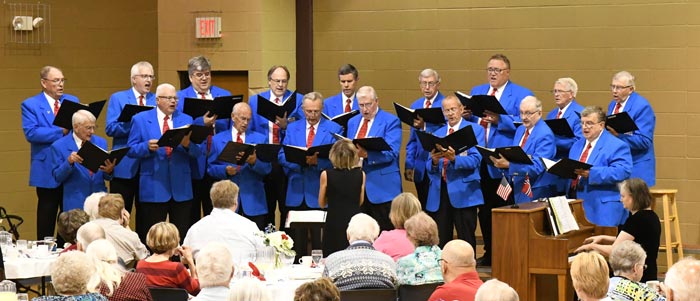 Mandskor sings at Sons of Norway Syttende Mai Banquet
June 5th, we joined the Sioux Valley Singers in a rehearsal hosted by the Norse Glee Club. June 10th was the date for our Sioux Valley Sangerfest. It was hosted by the Norse Glee Club. Our venue was Spirit of Peace UCC Church. This is a lovely sanctuary and it worked well for our group. Terry Walter served as Director in Chief and Lyle Kroon as Assistant Director. Deanna Wehrspann is our Sioux Valley accompanist, and piccolo player Ardelle Kleinsasser enhanced the accompaniment of Wonderful Grace of Jesus and Salute to our Patriots.
We were invited to entertain members of the Norland Heritage Foundation after a brunch meeting at Augustana, Sunday, June 11th. We happily obliged as the group does wonderful work in preserving the homes of pioneers Ole Rolvaag and his wife. The buildings rest in a park created on the south side of the Augustana campus. This was our final singout for the season.
We are now on break until we gather for our summer picnic and meeting in preparation for our concessions stand at the Sioux Empire Fair. We wish you all an enjoyable summer season and traveling mercies if you have such plans.
Respectfully submitted,



Terry Walter

Mandskor Member Spotlight
Leslie Hernes joined the Mandskor in February of 2017. He sings bass. After 20 years with the Grieg Chorus in Canton, he and his wife Wanda moved to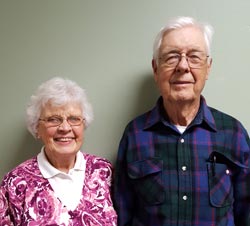 Wanda and Leslie Hernes
Sioux Falls, in October of 2016. As our president, Larry Luinenburg and wife Roxine were guests at the Canton chorus's Christmas dinner. Larry and Leslie visited at that gathering and learned that they were now neighbors. An invitation was issued to come sing with the Mandskor. Leslie agreed to give us a try and we are glad he did. The Herneses fit nicely into our Mandskor family.
Wanda was a missionary to Japan for 5 years and has also served as a parish worker. Leslie, a Canton native who attended Augustana College and Luther Seminary, served as a Lutheran pastor for 27 years. He also worked as a carpenter for several years and enjoys woodworking a a hobby. The couple has two grown children, Karen and Eric.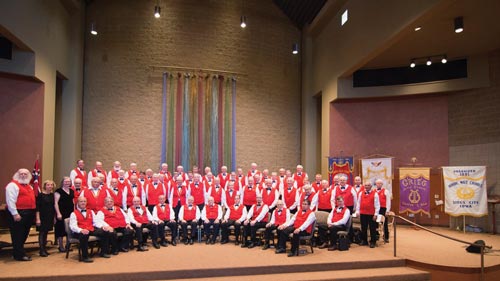 Sioux Valley Singers Association at 50th Sangerfest, 10 June 2017 at Spirit of Peace UCC Church, Sioux Falls, SD


____________________________________________________
VOLUME 107, NO.2 DECORAH, IA Mar.-Apr.-2017
MINNEHAHA MANDSKOR
Sioux Falls, SD
The Mandskor is busy working on music for the 2017 Sangerfest. We've had rehearsals together with the other Sioux Valley choirs in the last weeks. We were hosted by the Canton chorus in March and journeyed to Sioux City in April. Both meetings were good in terms of learning the music. We also enjoy the fine fellowship that occurs after the rehearsals.
We sang a concert at Dow-Rummel retirement community on March 6. They have a lovely venue and always provide a large receptive audience. We have a scheduled performance at Trail Ridge retirement community on May 1, and will sing for the Syttende Mai banquet to be held at First Lutheran Church, May 17.
Our accompanist, Deanna Wehrspann traveled to Finland to take in International Ice Skating. In her absence, Terry Walter moved to the piano and Hans Peterson stepped out of the bass section and onto the podium. Hans brought expertise and insight to the practice session.
We have two more singers, Leslie Hernes has officially joined the bass section, having recently moved to Sioux Falls from Canton. The Grieg's loss is our gain. Derrick McKenna, whose job interfered with attendance at Monday night rehearsals is now available to sing with us again. We are happy to have these fellows involved with Mandskor. We will also be happy to see our snowbirds back in their respective chairs. We anticipate that by mid-April, we will be reunited.
The Active Generations (Senior Center where we rehearse) is again planning to have their "Gourmet Guys" fundraiser event, April 30. Mandskor has provided one of the chefs for many years. This year, Larry Luinenburg will prepare and Ray Schnabel and Marlan Velgersdyk will serve the bite-sized entrée. They are calling it "Southern Hummus ala Mandskor". It is a black-eyed pea creation.
Active Generations is pleased to have our participation and we appreciate the opportunity to rehears and keep our music at their facility. It has been a long and warm relationship. While we willingly involve ourselves, it should be noted that it is no small task to prepare 600-700 servings.
So far , we are having a nice spring. An inch or more of rain would be welcomed. Usually that happens right after I've had my car washed or have cleaned the windows. I guess I'm not doing my part.
Respectfully submitted,



Terry Walter, Minnehaha Mandskor
____________________________________________________
VOLUME 107, NO.1 DECORAH, IA Jan.-Feb.2017
MINNEHAHA MANDSKOR
Sioux Falls, SD
The Mandskor has resumed rehearsals as of January 30. We have some snowbirds and the usual conflicts but we have had good balance, none the less. We welcomed guests Leslie Hernes (bass) and Ken Mork (tenor). Leslie is a retired Lutheran pastor (recently moved here from Canton) who has sung with the Grieg Chorus in Canton for 20 years. While we cannot replace his home chorus, we hope that he finds us to be an agreeable substitute and we would welcome him warmly should he decide that we are. Ken Mork is from Sioux Falls and sings with the choir at the local Cathedral. We would welcome him to our ranks as well, should he have interest.
Also visiting rehearsals has been our mascot, Winston Kittelson. Winston spent nearly two weeks at the home of Terry and Don while his owners were on a cruise. He enjoyed attending rehearsals where, after greeting everyone, he spent his time napping on the podium.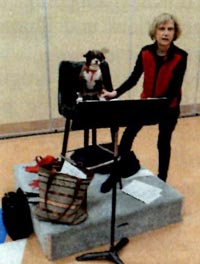 Terry Walter with
mascot Winston Kittelson.
We have our Sangerfest music handed out and have been through all of it. Some of it , we used last fall so our list of songs to be learned is shorter. Our joint Sioux Valley rehearsals are scheduled and everything is a go for the Sioux Valley Sangerfest in June 2017. At this writing, our concert calendar is open.
We tolerated some very cold weather for a couple of weeks but now it's almost as if spring has arrived. It certainly does make a difference in the mood. We noted yesterday, that it was about the same temperature as it was when we were in Arizona, in December.
We can live with that!
Respectfully submitted,



Terry Walter, Corr Sec.

____________________________________________________
VOLUME 106, NO.6 DECORAH, IA NOV.-DEC.2016
MINNEHAHA MANDSKOR
Sioux Falls, SD
Our fall session was a successful one. October 10th was our Hobo Stew night and again the soup was a culinary delight. Who would guess that throwing random cans of vegetables, etc. into a pot of hamburger base would create such a tasty result? But it works every year.
October 15-16, we bussed to Minneapolis for our annual excursion. We started with CAMELOT at Chanhassen Dinner Theater, then on to Plymouth for the Playhouses's production of "Rise Up, Oh Men." We overnighted in Plymouth and participated in two worship services at St. Stephen Lutheran Church in Bloomington before heading home.
We had a busy concert agenda with October 30 Festival of Men's Voices (a benefit for a local soup kitchen), November 7 Veteran's Appreciation Event at Active Generations (Sr. Center), November 21 Trail Ridge Retirement Community, November 27 participation in a concert at Trinity Reformed Church in Sioux Falls (other groups performed as well.)
Our Christmas party took place a week earlier than normal. Terry and Don appreciated the change as it made their escape to AZ easier to implement. The gathering took place November 28, in Brandon, SD, at the palatial home of Ray and Juanita Schnabel.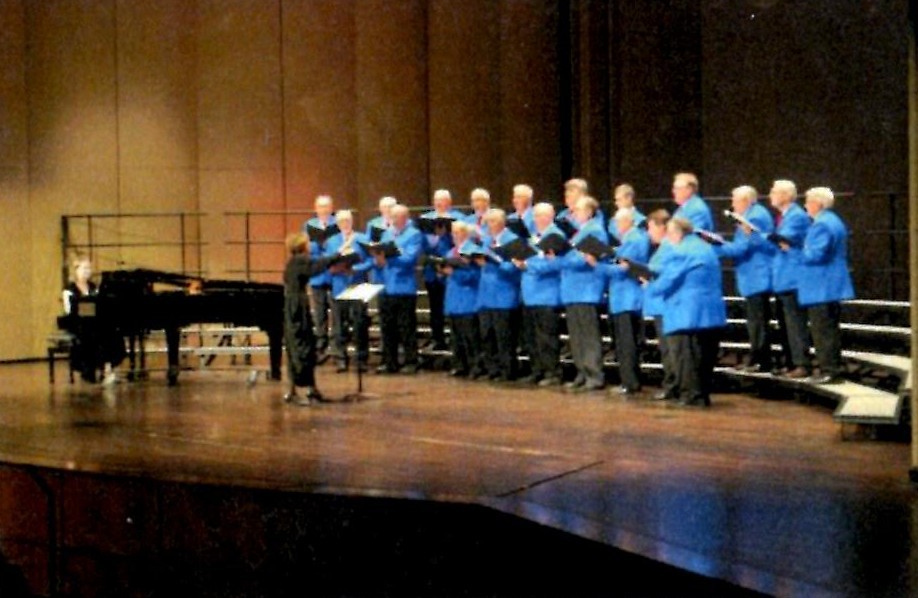 Mandskor singing at Festival of Men's
Voices, Oct. 30.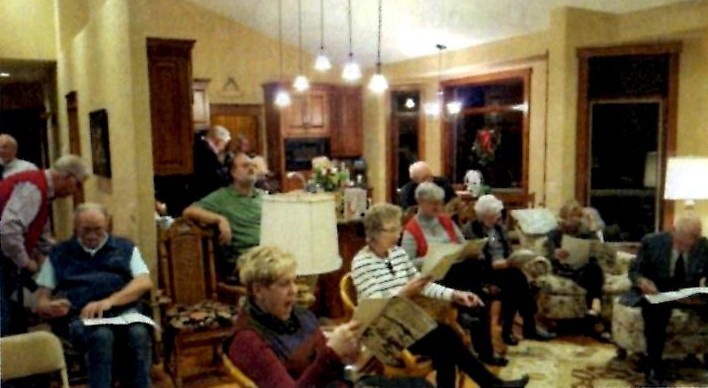 Mandskor Christmas party at home of Ray and Juanita Schnabel
It was a fun evening of food, fellowship and singing with Terry Walter at the piano and Hans Peterson on violin.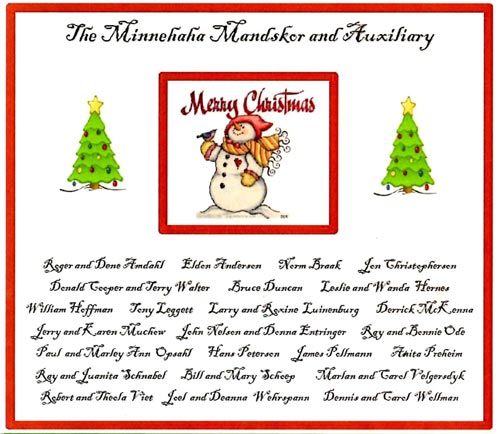 Terry Walter on piano and Hans Peterson on violin
Harkening back to when Bob Stenberg wrote these missives, I recall that he would include an update on crops, harvesting and sometimes the weather. I have a first hand report that not all crops are in. Although the snow has vanished for the most part, the rains we've had of late may dash the hopes of completing that task by year's end. Temps are mild for this time of year. I'm a walker and am in awe of the green grass yet present now in early December. In fact, a few days ago, I spotted a bright yellow dandelion. Surely we will pay for this in the near future.
May our Lord be honored as we celebrate His birth! Blessed Christmas and a New Year brimming with things to sing about!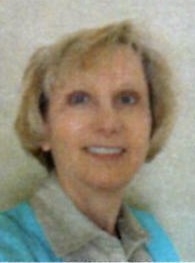 Terry Walter, Corr Sec.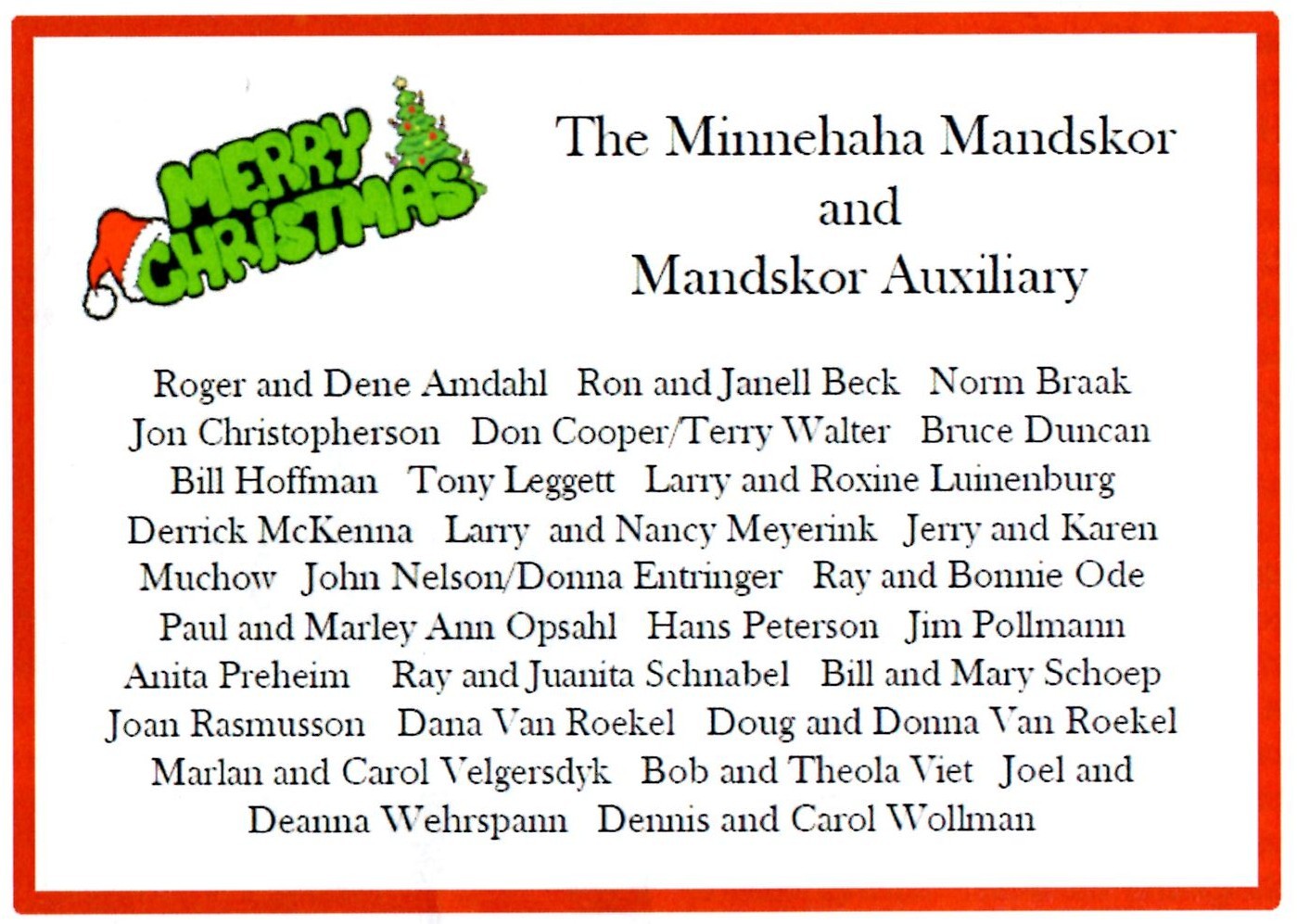 ____________________________________________________
VOLUME 106, NO.5 DECORAH, IA Sept.-Oct. 2016
MINNEHAHA MANDSKOR
Sioux Falls, SD
The Minnehaha Mandskor has just resumed rehearsals after a partial summer break. We did rehearse August 1, to prepare for a concert at Dow-Rummel Village on August 2. We sang the same concert on the Front Porch Stage at the Sioux Empire Fair on August 6. The Sioux Empire Fair kept us hopping from August 4-14. The group did well again this year with our concession stand. Although chislic isn't Scandinavian, it is popular with fair goers. It's cubed lamb on a stick which is flash fried and served immediately. Also available at our booth is the South Dakota dessert, kuchen.
We mourn the death of singer John Rasmussen. John was present at our summer picnic and took many wonderful pictures as he always did. He took several of our rehearsal and since he was snapping the pictures, his seat was empty. Those pictures are poignant now since that seat is empty permanently. He and wife Joan were also present at our Dow-Rummel concert. Later that evening, John passed away. Joan found him the following morning.
The Mandskor was privileged to sing at his funeral, August 8. We sang The Lost Chord, Grace (an arrangement of Amazing Grace) and most fittingly, Sing Your Way Home. John sang bass with our chorus and served as secretary. Anita Preheim of our auxiliary, lost her mother and that funeral was the same morning as the Rasmusson funeral. Member Eldon Anderson's wife Dorothy passed away. Her funeral was September 24. We extend our sympathy to these families.
Our fall will be a busy one:
October 10 -- Hobo Stew supper
October 15,16 -- Annual Minneapolis Excursion including Chanhassen Dinner Theater, Plymouth Playhouse, and participation in worship at St. Stephen's Lutheran Church in Bloomington.
October 30 -- Festival of Men's Voices at O'Gorman High School
November 7 -- Perform at Active Generations for Veterans' Appreciation event.
November 27 -- Perform at Trinity Reformed Church
December 5 -- Christmas Party
We have much for which to prepare, not the least of which is the next Sioux Valley Sangerfest. It will be held in Sioux Falls, June of 2017, and be hosted by the Norse Glee Club.
Right now, we are still mowing grass due to the heavy rains we experienced in September. Weather has been exceptional but Fall is upon us. Hopefully we won't have any early snowfalls to prevent our singers from making it to rehearsals.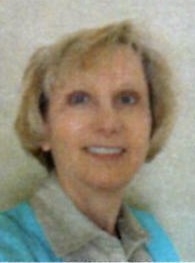 Terry Walter


____________________________________________________
VOLUME 106, NO.4 DECORAH, IA JULY-AUG. 2016
(The following article was received from John Rasmusson only a few days
before he died. Ed.)
MINNEHAHA MANDSKOR
Sioux Falls, SD
SANGERFEST 2016
The most recent NSAA Sangerfest, in Sioux Falls, hosted by Sioux Valley Singers, is over, but not quite done. Final accounting is finished, and just a few minor details are left to be ironed out. According to reports, it was a grand success in almost all respects. Advance planning, guided by Mandskor President Marlan Velgersdyk, was detailed and complete. Director-In-Chief David Judisch, and Assistant DIC Terry Walter did a marvelous job of putting the final touches on the Parade of Choruses and Grand Concert Programs.
The singers, of course, were the essence, backed up by the directors, accompanist, orchestra, and soloists, in the finest Sangerfest tradition. The choruses were well prepared, and presented themselves well in their individual chorus outfits at Parade, and formal white jackets at Grand Banquet. Soloists were talented and professional.
The SVS auxiliaries made a major impact, carrying out a well planned program of activities, vendor booths, and welcoming of arrivals. As always, the Afterglows and Banquet were highlights. All in all, the Sangerfest experience was memorable and extremely enjoyable.
The SVS Sangerfest 2016 Committee and the Auxiliary committee members met at the Touch-Of-Dutch Restaurant in Beresford SD on Tuesday, July 26 for a final wrap up of the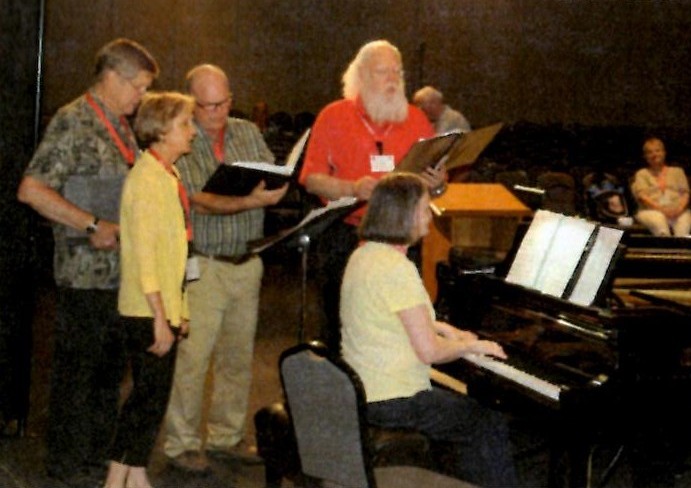 The Sioux Valley Singers directors sang a song of welcome
to begin the 2016 Sangerfest opening rehearsal.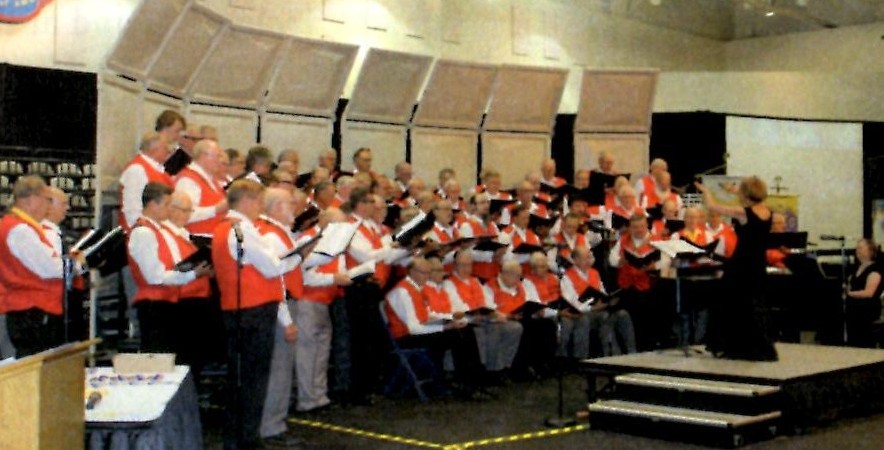 Sioux Valley Singers lead off the Parade of Choruses program.
OTHER NEWS & SIOUX EMPIRE FAIR
A young tradition for Mandskor, the Chislic-Kuchen Booth Fundraiser at the Fair, is in progress as this article is being written. Besides the booth itself, newly remodeled by several of our skilled members, work schedules are done and fine tuned, chislic (lamb) is in the freezer, kuchen is baking, and we are looking forward to another successful year. Opening is Friday, August 5, and the last day will be Sunday, August 14. The chorus will sing at the Front Porch at noon on Saturday, August 6.
SUMMER OUTING
On Monday, August 1, members and wives enjoyed a get-together at
Director Terry Walter and husband Don Cooper's shop in Tea, SD. Don's collection of automobiles was on display, and made available for driving/riding before the picnic. After the meal, the chorus rehearsed for the concert at Dow Rummel Village the next evening.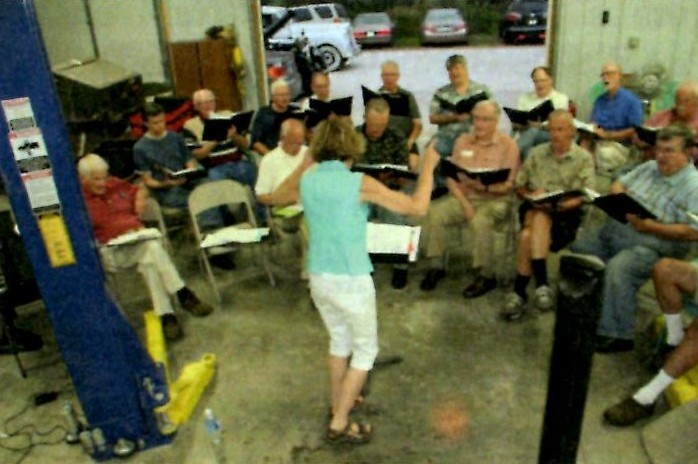 Mandskor summer outing. Notice the empty chair left by
John Rasmussen as he snapped this picture.
SINGOUTS
The aforementioned concert at the Fair on August 6, and the Dow Rummel performance on August 2 were the only public appearances for Mandskor since June.
Our active season starts after the September 12 kickoff rehearsal.
FALL TRIP
Director Terry has made arrangements for the annual trip to Minneapolis on Saturday-Sunday, September 15-16. As in the past, the agenda will include lunch and an afternoon play at Chanhassen, and the evening production at the Kelley Inn in Plymouth. Plans for a Sunday morning concert at one of the area churches are incomplete at this time.
IN CONCLUSION
The members of Mandskor and the Auxiliary, as well as the other choruses in SVSA, appreciate the excellent response from all of the NSAA choruses in their attendance and performance at Sangerfest 2016 in Sioux Falls. We anticipate with pleasure the next Sangerfest in 2018 at Decorah, Iowa.



John Rasmusson, Corr. Sec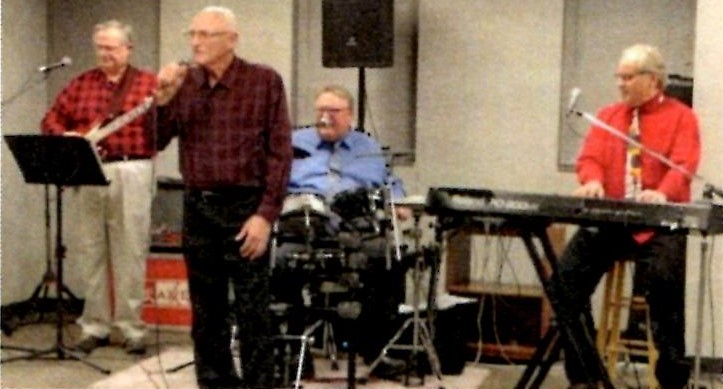 John Rasmusson
Obituary
John Rasmusson was born Dec. 16, 1932 at Edgar NE, the youngest son of Rev. Sander and Ruth Rasmussen. The family moved several times to various parishes his father served.
John graduated from high school in DeWitt NE, and then went on to the U. of Nebraska on a Navy ROTC scholarship, with a Civil Engineering major.
He served three years on the USS Mathews in Long Beach CA. There he met Joan Ollig, a teacher in Long Beach. They married on March 23, 1957.
After military service John served as an engineer in various firms in Missouri.
In 1962 John became a part of the Ollig family-owned telephone firms in Minnesota, South Dakota and Iowa. Among his hobbies was photography.
John was active in Boy Scout work and, after 2004, in singing in the Minnehaha Mandskor, for which he was Corresponding Secretary to the Sanger-Hilsen magazine for several years. He had submitted his final report just a few days before his death.
John died in his bed at home Aug. 3rd. He is survived by his wife Joan; one son John (Joan) of Sioux Falls; two daughters: Pam Carroll of Chicago and Laurie (Oliver) Wolfert of Washington DC; eight grandchildren and one great-granddaughter.
Funeral services were held Aug 8th at the Lutheran Church of Dell Rapids with Minnehaha Mandskor providing the special music.
____________________________________________________
VOLUME 106, NO.3 DECORAH, IA May-June 2016
MINNEHAHA MANDSKOR
Sioux Falls, SD

PRESIDENT VELGERSDYK ANNOUNCES WINNERS OF SANGERFEST

2016 AD SALES CATEGORIES…
NSAA President Marlan Velgersdyk is honored to make public the outstanding work of SVSA chorus members and others toward raising the funding for Sangerfest 2016 as follows:
1. Most Number of Advertisement, Ticket, and Sponsorship Sales by a Member of a Non-Sponsoring Chorus...
Herb Nelson…Norwegian Glee Club of Minneapolis
2. Most Number of Advertisement, Ticket, and Sponsorship Sales by a Member of a Sponsoring Chorus…
Bill Kortemeyer…The Grieg Male Chorus of Canton, SD
3. Largest Dollar Value for Advertisement, Ticket, and Sponsorship Sales by a Member of a Sponsoring Chorus…
Gail Kristensen…Norse Glee Club of Sioux Falls, SD
4. I'm Not a Sales Person / Just Ask Award…
Ray Ode…Minnehaha Mandskor of Sioux Falls
(Seventeen Sales Calls without a No Sale!)
NOTE: A GIFT CERTIFICATE (below) FOR A ONE NIGHT STAY AT THE SHERATON SIOUX FALLS HOTEL WILL BE SENT TO THE ABOVE WINNERS.



President Marlan noted that there were a number of other efforts worth recognizing, but the list of categories was narrowed down to the above in the interest of keeping it at a manageable level.
Judging from President Marlan's announcement, Mandskor members, as well as the other Sioux Valley Singers Chorus members, have been preoccupied with wrapping up ad sales, sponsorships, etc. to meet the deadline for final assembly of the Sangerfest 2016 Sioux Falls Souvenir Program Book. Ticket sales are ongoing, being a major component of revenue in support of Sangerfest.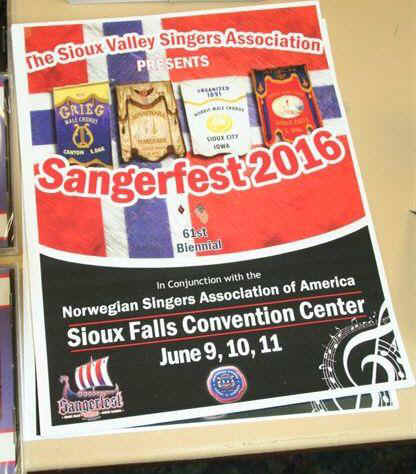 Sangerfest Program Book Cover
In addition to the sales activity, there have been meetings of Sangerfest committee to fine tune plans and tie down loose ends. The most recent gathering was on May 2, before the joint SVSA rehearsal in Sioux City. The next one will be on June 6 just prior to the Sangerfest which starts on June 9. This will be at Nordic Hall in Sioux Falls, before the last joint SVSA rehearsal.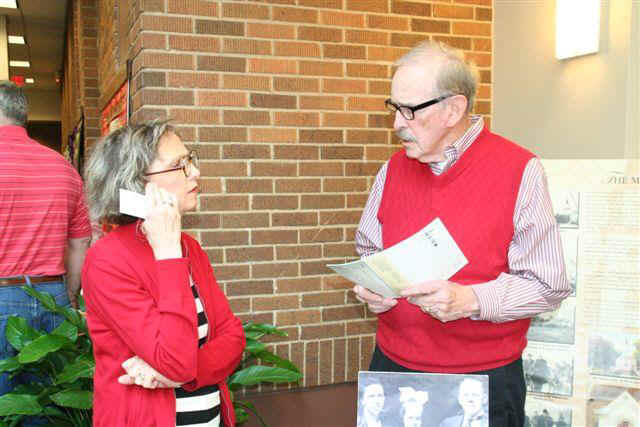 Terry Walter and Charles Berdahl
About Members...
Mandskor Chorus member Charles Berdahl is Vice President of the Nordland Heritage Foundation. In the Spring 2016 issue of The NORDLANDER, there is an interesting article and photos about Charles' Norwegian background.
Singouts...
As noted in the last Sanger-Hilsen report, on Sunday, May 1, Mandskor sang at Zion Lutheran Church in Sioux Falls (fundraiser for the Lutheran School). In the evening on Thursday, May 12, we performed at the Sons of Norway Memorial Service at Our Savior's Lutheran Church.
Oakview Terrace Nursing Home in Freeman, SD was the site of our most recent concert, on Saturday, May 21. "Hub" Christen is a resident at Oakview Terrace and also a former member of the Luren Singing Society. He joined the chorus in the 2nd tenor section as we sang Norge Mit Norge. We have encouraged him to attend the upcoming Sangerfest.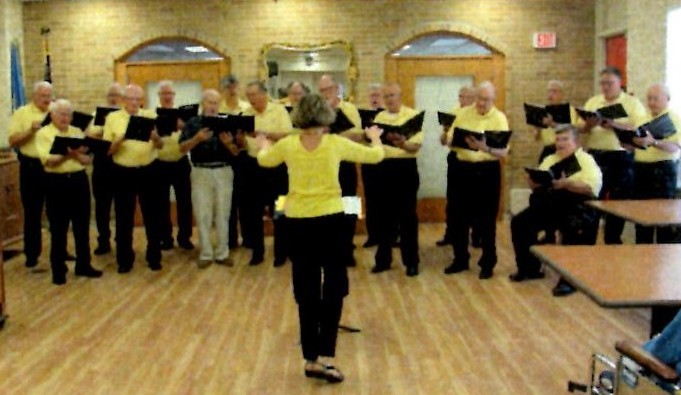 "Hub" Christen with Mandskor at Oakview Terrace Nursing Home.
After the program, some of our members toured the Heritage Hall Museum, followed by dinner at Blue's Restaurant. Our last singout before Sangerfest will be at Brandon Lutheran Church, at the 8:15 a.m. service on June 5.
Syttende Mai…
Mandskor and Norse were among the sponsors for this year's Syttende Mai celebration at First Lutheran Church in Sioux Falls. President Marlan and Chorus Member Larry Luinenburg attended a table at the reception promoting Sangerfest 2016 and selling tickets.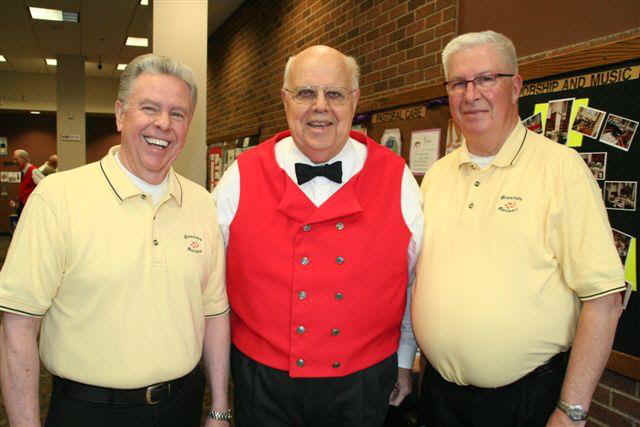 Marlan Velgersdyk, Gail Kristensen, and Larry Luinenburg promoting
Sangerfest at the Syttende Mai celebration.
The members of Mandskor and the Auxiliary, as well as the other choruses in SVSA, have expended a huge amount of effort to make Sangerfest 2016 in Sioux Falls one of the best yet. We look forward to seeing you there, and enjoying the rehearsals, parties, and festive atmosphere.



John Rasmusson, Corr. Sec.
____________________________________________________
VOLUME 106, NO.2 DECORAH, IA Mar.-Apr.2016
MINNEHAHA MANDSKOR
Sioux Falls, SD
As expected, Mandskor activity since the last Sanger-Hilsen has been almost exclusively related to the Sioux Falls Sangerfest 2016. Ad sales for the souvenir program book so far have exceeded expectations. President Marlan Velgersdyk has been setting the pace and conducting himself in an exemplary manner as leader, teacher, and salesman. At this time, one of the most important activities has to do with ticket sales.
There have been monthly meetings of the Sioux Valley Singers Association (SVSA) Sangerfest Committee. Representatives from Mandskor, Grieg, Nordic, and Norse are members of the Committee.
These meetings are chaired by NSAA President Marlan. Well organized, they address a myriad of subjects, from ad sales to facilities, to program book, events and schedules, etc. In order to keep travel and time spent at a manageable level, the last two meetings have been held prior to the joint practices.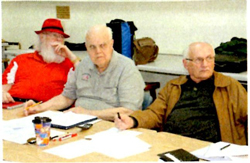 Lyle Kroon, Gail Kristensen, and David Lien at an SVSA Committee meeting.
Plans are progressing nicely, and by the time Sangerfest arrives, all, or nearly all of the loose ends will have been tied down.
Two SVSA joint rehearsals have been held so far...the first at Canton (hosted by Grieg), and the second at Active Generations in Sioux Falls, hosted by Mandskor. Attendance has been good, and the Sangerfest music, while not yet perfect, is getting better. The last two practices will be at Sioux City (Nordic) on May 2, and Norse in Sioux Falls on June 6.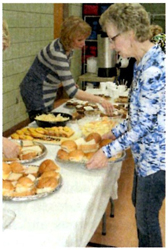 Mary Schoep and Carol Velgersdyk at the food table for the SVSA Chorus rehearsal, preparedby Mandskor Auxiliary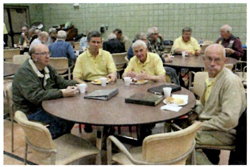 Gordon Grimsrud, Bill Schoep, Jim Pollman, and John Nelsen enjoy post SVSA Chorus rehearsal refreshments.
ABOUT MEMBERS... We have two new members, Eldon Anderson and Hunter Friesen (grandfather-grandson). Spotlights will come in a future issue.
Snow birds Roger Amdahl (bass), Jerry Muchow (baritone), and Charles Berdahl (second tenor) are back in town, bringing our roster back to full strength. John Nelson suffered a stroke recently, an is just now able to participate again.
SONS OF NORWAY TORSK DINNER on March 4...Terry Walter (Director) and husband Don Cooper worked in food preparation and serving. Marlan Velgersdyk, Larry Luinenburg, ad Ray Ode combined their talents to sell Sangerfest ads and tickets. They reported a very warm reception.
SINGOUTS...We did not perform during the month of April, but in May, we have three singouts scheduled. On Sunday, May 1, we will sing at Zion Lutheran Church in Sioux Falls. The Sons of Norway Memorial Service at Our Savior's Lutheran Church will be on May 12, and on Saturday, May 21 we will travel to Freeman SD for a concert at Oakview Terrace. Plans there include a tour of the museum, and dinner at a local restaurant. With some exceptions, our program for these singouts will include the Sangerfest pieces.
GOURMET GUYS...As we have done for the past several years, Mandskor will again have a stand at the Active Generations annual fundraiser on Sunday, April 17. Our theme, yet to be named, will have a Norwegian flavor. Bill Hoffman is chair and chef for this event and he will be preparing a wonderful smoked Norwegian salmon served on a cracker with cream cheese and a garnish.
Larry Luinenburg and John Rasmussen will be assisting Bill. Tony Leggett will be at a table nearby in the event that extra help is needed.
IN CONCLUSION...Because of the hard work by Mandskor members and the other SVSA choruses, we are comfortable about the rapidly approaching Sangerfest in June. Comfortable may not be the right word. We are still a bit nervous about final preparations.




John Rasmusson, Corr. Sec.

Mandskor Member Spotlight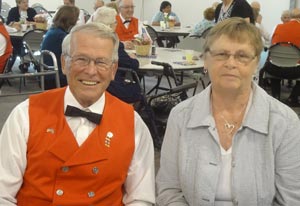 Jerry and Karen Muchow
Jerry Muchow joined the Mandskor in 1992. He father Willis Muchow had been a member of the top tenor section for years, receiving his diamond pin for Sangerfest attendance and he wanted Jerry to come sing with him. Along with his contribution to the baritone section, Jerry has long served at librarian for the chorus.
A Sioux Falls native, Jerry attended country school through 8th grade and Washington High School for 4 years. His was the last class to attend 4 years at Washington before the school switched to being a 10-12 institution.
Jerry is retired after 45 years with John Morrell Meatpackers. His wife Karen is retired from her work as an elementary school teacher. Their grown children (Jerry has 6 and Karen has 3) and 8 grandchildren complete the family.
Hobbies include golfing, traveling, working in the yard and contract painting. The Muchows spend 5 months a year in Mesa, AZ, but are always glad to get back to their home in Garretson, South Dakota and the Mandskor activities.
____________________________________________________
VOLUME 106, NO.1 DECORAH, IA Jan.-Feb. 2016
MINNEHAHA MANDSKOR
Sioux Falls, SD
Mandskor members' thoughts of taking a month off in January quickly fell by the wayside. The time over the Christmas holiday was quiet, but the new year has been quite busy with Monday night rehearsals (one was canceled because of weather) and singouts.
President Marlan Velgersdyk kept things humming with Sioux Valley Singers Sangerfest 2016 committee meetings and inspiring SVSA and NSAA members to sell ads in the Souvenir Program book. Committee meetings from now until Sangerfest will be monthly at a minimum.
ABOUT MEMBERS…Our own Ron Beck, who has served as Secretary of SVSA the past several years, decided it was time to hand off this responsibility. Norse Glee Club member Gail Kristensen has graciously accepted the job, and settled right in, writing minutes of committee meetings in January.
Longtime Mandskor member Roger Amdahl's youngest brother, Charles, passed away on January 24 in Sioux Falls. Roger and Dene made the trip back from Mesa, AZ when he received word that death was imminent.
SINGOUTS…Director Terry Walter made arrangements for us to sing at Dow Rummel Village on January 7. We provided a program at Bethany Meadows (a retirement place in Brandon) on January 26. The reception at both of these venues, as always, was friendly and appreciative. So far, the calendar for the month of February is open, but it may not stay that way for long. Director Terry and President Marlan have several ideas about places to perform.
SANGERFEST 2016…Ad sales are progressing well, but Marlan urges all the Mandskor and other NSAA chorus members to "GET OUT AND SELL!" We are at about 55% of budget. In addition to the commercial ads, the campaign now includes personal ads. Information about personals has been distributed, and some sales have been made. This category has the potential of making up an important part of the total. Family members and friends are all prospective personal ad-takers. Various sizes are available from 1/8 to ½ page. JUST ASK. Represent your family for as little as Fifty Dollars ($50.00). Talk to your local Sangerfest 2016 leader.
The February 1 REGISTRATION DEADLINE has come and gone. All NSAA choruses have responded, but some forms are incomplete. It seems registrations are somewhat fewer than our first polling in Nov. 2015. Early payment without penalty is due March 15.
The committees of the SIOUX VALLEY SINGERS LADIES AUXILIARY have been planning a fun time for those attending Sangerfest 2016. Thursday will be vendor day, when each vendor will give a door prize at the end of the day. There will also be a style show and free make-overs. Other activities are in the planning stages.
The Friday outing includes lunch at Chef Dominique's, a tour of the beautiful St. Joseph Cathedral, shopping at "8th and Railroad," and a visit to Falls Park. The Saturday luncheon will have Julie Clark as featured speaker. Julie is an author, and creator of Inspirational Coffee Club. Saturday will also have a Norwegian Butik.
June 9-11 will be here before we know it. As the date gets closer, the need to expedite preparations becomes more and more important.



John Rasmusson, Corr. Sec.
Mandskor Member Spotlights
Joel Wehrspann came to the Mandskor tenor section somewhere around 2001, because his wife was the accompanist and it seemed natural to carpool to rehearsal. Not unusual for the Wehrspanns. They met while singing together in Lincoln Lutheran Choir in Lincoln NE. Joel would give Deanna a ride to rehearsal.
From St. Louis MO, Joel graduated from Lutheran High School North and continued his education at St John's College in Winfield KS (degree) and also at Concordia College in Seward NE, and University of Nebraska-Lincoln.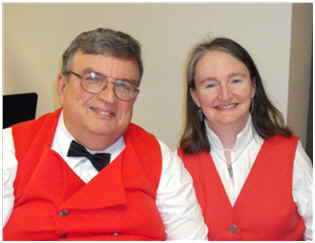 Joel and Deanna Wehrspann

He was inducted into Concordia College/University's Athletic Hall of Fame as Asst. Soccer Coach for the 1979 team. Joel worked with Lincoln NR Parks & Recreation and NE State Penitentiary for 25 years. He has had an extensive career as a sports official for softball, baseball, basketball, volleyball, and soccer. Currently he works in customer service for TCF Bank.
He and his wife Deanna are parents to Catherine (26), a Luther College grad who just married last September, and Grace (22) a recent St. Olaf College grad.
Deanna Wehrspaan began accompanying the Mandskor in 1997. She grew up in Aberdeen and Sioux Falls, SD and graduated from Augustana College in Sioux Falls. Deanna has a long resume as a professional pianist, composer, choral singer and church musician. She has accompanied SD All-State Chorus and High School Honor Choir, played with the SD Symphony and was guest pianist for Grammy-winning Phoenix Chorale.
As a composer of choral, vocal, piano and string orchestra music, she is published by Augsburg Fortress and upcoming from Choristers Guild, and was recently commissioned by both the Elementary Honor Choir of the North Central Region of American Choral Directors Association (ACDA), and the South Dakota Music Teachers Association. She has been Composer-in-Residence at both Ucross Foundation in Wyoming and Kimmel-Harding-Nelson Center for the Arts in Nebraska.
She is a charter soprano of the SD Chorale, a professional choir honored by being invited to the National Conference of the ACDA in Salt Lake City, in 2015. She is an active church musician at Our Savior's Lutheran
Church in Sioux Falls, where she lives with her husband Joel. Their two grown daughters grew up listening to Mandskor rehearsals every Monday evening.
____________________________________________________
VOLUME 105, NO.6 DECORAH, IA Nov.-Dec. 2015
MINNEHAHA MANDSKOR
Sioux Falls, SD
Mandskor members have been very busy since the last issue of Sanger-Hilsen, mainly doing singouts at various places in the City. Specifically, the performances were at the O'Gorman Performing Arts Center (Lorang Theatre)...Fellowship of Men's Voices...in the afternoon on Sunday, November 8*; at Active Generations on Nov. 10 (Veteran's Day gathering); Sunday, November 29 in the afternoon at Trinity Reformed Church. Our most recent concert was for the residents of Avera Prince of Peace in the afternoon on Wednesday, December 2. All performances seemed to be appreciated and enjoyed by the audiences.
*At the FOMV, there were five other choruses from the area. The performance was for the benefit of the Banquet Ministry, a non profit that feeds two meals a day to the hungry at two locations.. A free will offering and gifts from sponsors totaled about $17,000 (up from $14,500 last year).
President Marlan, as chair for the 2016 NSAA Sioux Falls Sangerfest to be hosted by Sioux Valley Singers choruses, is happy to report that we are on schedule at this time with fundraising. As of now, approximately $10,000 worth of ads are sold. Marlan's advice is "Just Ask!" Preliminary attendance...it appears that this will be one of the biggest Sangerfests ever.
In the very near future a new campaign for personal ads will be launched. This will involve all NSAA members and their wives/companions. Watch for the details...information will go out to all choruses.
Program Notes: There will be a chorus from Norway at Sangerfest. Final arrangements are being made. Look for more information in the next issue of Sanger-Hilsen.
In the evening on December 7 the chorus members and wives/companions were guests at a lovely Christmas party at the home of Terry Walter and Don Cooper (Terry is our director, and Don is a first tenor). Departing from the custom of having a sit down dinner, members brought appetizers and drinks for a cocktail party. After eating, drinking, and socializing, there was singing of carols, accompanied by Hans Peterson on the violin, his wife Geri and Terry on piano, and Terry on saxophone. It was heartily agreed that this was a very enjoyable way to celebrate the approaching holiday.
Treasurer Roger Amdahl (Dene) and Assistant Librarian Jerry Muchow (Karen) have departed for Mesa, Arizona where they will spend the rest of the winter. As time goes on, we may be missing a few other singers, but hopefully they will not stay away so long. Those of us who stay around feel badly that some feel compelled to leave during the best part of the winter (???).
The rehearsal and activity schedule for the rest of December is blank as of this time. Next time we officially get together will be for rehearsal on Monday, January 4, 2016.



John Rasmusson, Corr. Sec.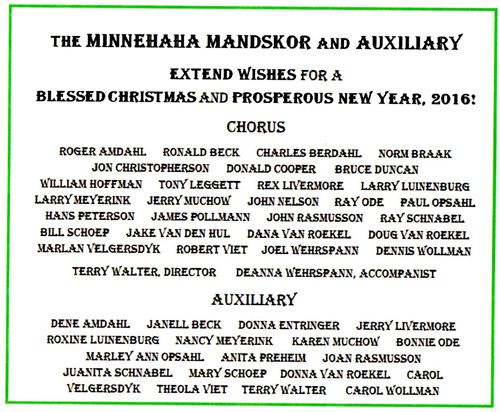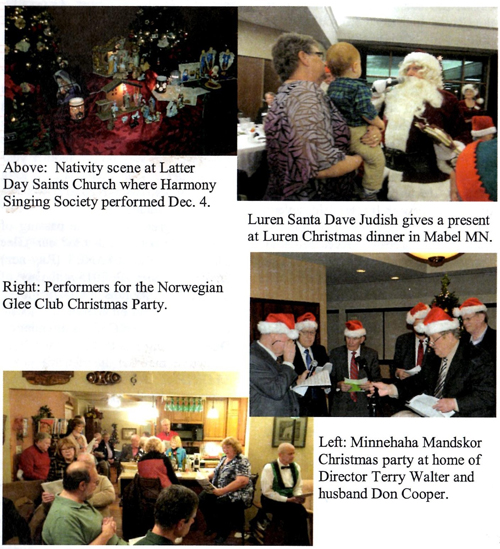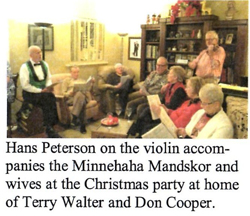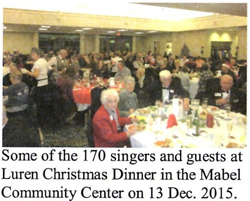 ____________________________________________________
VOLUME 105, NO.5 DECORAH, IA Sept.-Oct. 2015
MINNEHAHA MANDSKOR
Sioux Falls, SD
Due to the Labor Day holiday falling on September 7, the Mandskor didn't really get rolling until the following Monday, September 14. That was the date for the fall board meeting and our regular monthly business meeting. Hans Peterson, from Brandon, SD was welcomed as a new member. Hans sings Bass II, and was invited to join by our faithful recruiter and former president, Ray Ode, also from Brandon.
Behind the scenes, NSAA President, Marlan Velgersdyk, has been very busy working on the 2016 Sangerfest: Selling ads and encouraging all members of Mandskor as well as the other three choruses in Sioux Valley Singers to follow his lead, and organizing and producing the President's book. This book contains all of the essential information about Sangerfest, including accommodations, registration, reservations for the various luncheons and Aftergow, etc. A book will be sent to each of the NSAA chorus presidents.
An important part of Sangerfest will be the attendance by one or more choruses from Norway. Arrangements have been finalized for the Mannssonglag chorus from Levanger. The BB&R Norway Men's Chorus (these singers were at the Minneapolis Sangerfest in 2014) have inquired about attending in Sioux Falls. Information is being sent to them.
The Board addressed a number of subjects, most important of which was the Chislic-Kuchen Fair Booth report. This year's fair was the most successful in its brief history, and it was decided to do it again in 2016. Plans were approved to proceed with having a new banner designed and made in time for Sangerfest 2016. Director Terry Walter and Don Cooper extended an invitation to the chorus to their home on December 7 for our annual Christmas party. This was enthusiastically accepted.
On October 5 the men of the chorus and their ladies enjoyed the traditional Hobo Stew supper before rehearsal. This was coordinated by the ladies of the
Auxiliary. As usual, an amazing combination of ingredients resulted in a delicious entrée. Accompanied by a wonderful array of bars and cookies, the meal was very satisfying.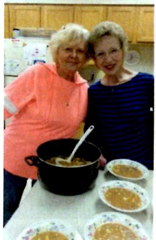 Carol (Marlan) Velgersdyk and Carol (Dennis) Wollman serving hobo stew.
The trip to Minneapolis is scheduled for October 10-11, and includes a stop at Chanhassen for lunch and a play. In the evening, we have tickets for a performance of the original Church Basement Ladies at the Kelley Inn. On Sunday, the chorus will sing St. Stephens Lutheran Church before boarding the bus for the return trip to Sioux Falls.
A number of singouts will happen during the 2015-2016 singing year. Trail Ridge Senior Living is on the schedule for Sunday, October 25. Other possibilities include Dow Rummel, Prince of Peace, Christian Reformed Church, Edgerton, MN Nursing Home, Trinity Reformed Church and the Old Opera House in Akron, Iowa. Contacts are being made to finalize the schedule.
The next singing event will be the Fellowship of Men's Voices, featuring choruses from the area, at the O'Gormon auditorium on November 8. This is a benefit (free will offering) for the Banquet, which is a feeding ministry for the poor and homeless.
That about wraps it up for now.


John Rasmusson, Corr. Sec
Mandskor Member Spotlight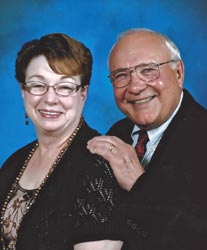 Ray and Juanita Schnabel
Ray Schnabel joined the Minnehaha Mandskor as a baritone in the spring of 2013. He and his wife Juanita grew up in Mitchell and Huron, SD. After Ray's graduation from South Dakota School of Mines and Technology as a Mechanical Engineer and a 40-year career with Caterpillar, Inc., they have lived in a number of places including 28 years in the Peoria, IL area.
While living in Brussels, Belgium during one of his career stops, he became a charter member of a barbershop singing group called the "Capital Chordsmen". This experience included several years of singing for the U.S. Ambassador's Fourth of July champagne luncheons for a wide array of ambassadors from other countries who lived in Brussels.
Ray began retirement from Caterpillar on February 1, 2005. He subsequently assumed a pro bono Director/Registrar position for 9 years with Heidelberg Theological Seminary located in Sioux Falls, SD.
In 2007, the Schnabels relocated to Brandon, SD. Juanita trailed along with Ray tending to their children and managing a home business as a seamstress designing and constructing wedding dresses, etc.
They have 3 children, 13 grandchildren and 2 granddaughters-in-law located in Minnesota, Iowa and Georgia. Juanita is a member of the Mandskor Auxiliary. Ray also sings with a men's quartet at his church and enjoys travel, photography, golfing, fishing, hunting, reading and time with their family and friends.
Mandskor Member Spotlight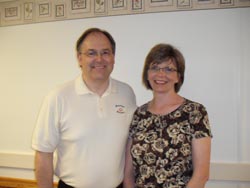 Bruce and Leslee Duncan
Bruce Duncan sits along side his cousin Roger Amdahl in the bass section of the Mandskor. He helped out in the baritone section for awhile but was happy to move back when that section was restored with new members and returning snowbirds. Roger's influence and that of fellow church choir member Ray Ode were the forces that prevailed to bring him to the chorus.
Bruce attended high school in Hawarden, IA, and college at USD. His wife Leslee, who is a niece to Ray Ode, is from Brandon and attended National College of Business. Bruce is a Telecommunications Supervisor for SDN. Leslee is a Merchandiser for Sullivan's Floral Design. The Duncans have two daughters, Laurel (in seminary) and Becky (an accountant). They list their hobbies as gardening, reading, and singing.
____________________________________________________
VOLUME 105, NO.4 DECORAH, IA July-Aug. 2015
MINNEHAHA MANDSKOR
Sioux Falls, SD
The August 10 deadline for Sanger Hilsen is upon us!
In spite of these two months supposedly being a time of recess for us, it seems as if we have been extraordinarily busy with one thing and another.
For starters, June 13, we traveled to Sioux City for the Sioux Valley Singers Biennial Sangerfest. This event, hosted by Nordic Male Chorus, was a delightful gathering of the three choruses in South Dakota and one in Iowa. Attendance was excellent. Congratulations and Thank You to Nordic for such a fine job of planning and execution.
The next SVSA Sangerfest (in 2017) will be the responsibility of Norse Glee Club in Sioux Falls.
There have been committee meetings and a lot of behind-the-scenes work has been done to get ready for the 2016
Sioux Falls NSAA Sangerfest.
Accomplishments to date:
- The Sangerfest hotel (Convention Center Sheraton), concert and meeting facilities have been arranged at the Sioux Falls Convention Center.
- Some major advertising for the Souvenir Program Book has been sold, along with several smaller ads.
- ALPHAGRAPHICS has been selected to do graphic design: cover, ad layouts, logo, everything needed to produce the Program Book.
- Chair Marlan Velgersdyk has done a wonderful job of organizing the work to be done...identifying the major responsibilities and assigning personnel from all the SVSA choruses. An important meeting will be held on August 14 to review what has been done and what remains.
Director Terry Walter and Don Cooper invited us to hold our summer outing on July 27 at their shop in Tea where they have an outstanding collection of automobiles of various vintages. Probably the most notable among the cars was a 1933 Rolls Royce. This car drew a lot of attention, and a few of the braver members took it for a spin.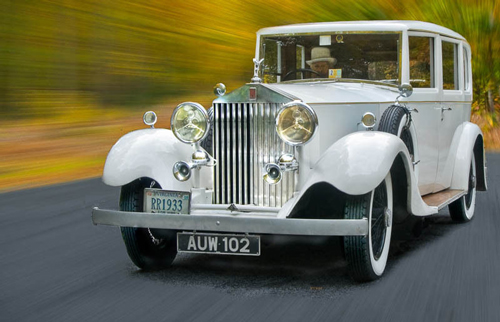 As usual, the potluck was delicious, accompanied by fried chicken from Royal Fork. The evening was capped off by a rehearsal for the Dow Rummel Retirement Village concert the following night, and the Sunday afternoon concert at the Sioux Empire Fair. A number of guests were present, some of whom are prospective members.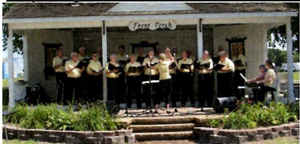 Mandskor on front porch at Sioux Empire Fair.
A lot of time has been spent getting ready for the Chislic and Kuchen booth, which has become an annual event at the Sioux Empire Fair in Sioux Falls. One very big project was to replace the roof on the booth. All of the work was accomplished by members, and they did a professional job.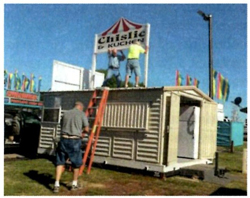 D. Cooper, J. Muchow and R. Amdahl raise the sign on the Chislic booth.
At this writing, sales are well ahead of last year, and if the weather holds, it should be a record breaker. The Fair started on Friday, July 31, and will run through Sunday, August 9.
Regular fall rehearsals will start on Monday, Sept. 14 at 7:30 p.m. We are looking forward to a busy year of singing and getting ready for the 2016 Sioux Falls NSAA Sangerfest.
Plans have been made for another bus trip to Minneapolis in October. Plays and sightseeing, as well as a concert at one of the churches in the cities are on the agenda.



Respectfully submitted
John Rasmusson, Corr. Sec.

Mandskor Member Spotlight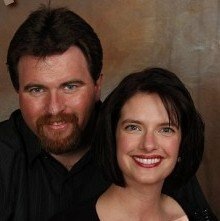 Tony and Bobbie Jo Leggett
Tony Leggett has been a member of Mandskor first tenor section since 2013. A Sioux Falls native, he graduated from O'Gorman High School and then achieved a degree in Vocal Music from Augustana College. Although he had a brief stint with the Mandskor immediately after graduating, he was not able to continue due to family obligations.
Tony works along side his father at their local business, Fireplace Professionals, Inc. He has continued to stay as busy as possible with vocal music by cantering, singing tenor in local chamber group Prairie Song, acting in musicals at the Orpheum, and most recently singing with Sounds of South Dakota. Other interests include running, biking, fishing, hunting and traveling.
Tony is married to Bobbie Jo, who is director of caregiver outreach at Active Generations. Together their lives are blessed with Annalee, 17; Hollie, 15, and 1 year old Elijah (Eli).

____________________________________________________
VOLUME 105, NO.3 DECORAH, IA May-June 2015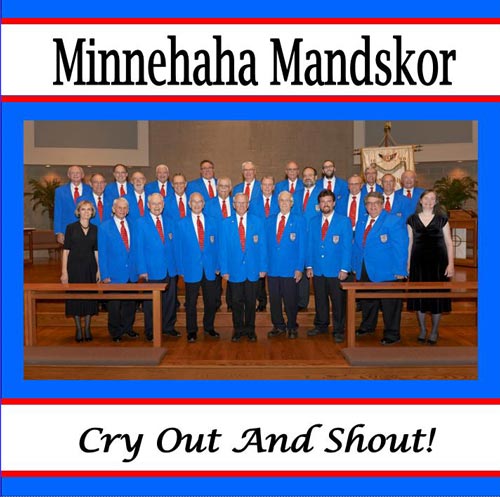 Cry Out And Shout is the title of the CD recorded fall 2014 and released by Minnehaha Mandskor in 2015. Selections on the CD are: Cry Out And Shout

•

Bless This House

•

Tonerna

•

The Lost Chord

•

On My Way to Jordan

•

Fader i himlen

•

Nidelven

•

How Great Thou Art!

•

Marching On

•

We're the Men

•

Grace

•

It Is Well With My Soul

•

Vikingarne

•

Hallelujah, By and By

•

God Bless America

Audio CDs released by other NSAA and PCNSA Choruses will be featured in coming issues of SangerHilsen.
__________________________________________________
MINNEHAHA MANDSKOR
Sioux Falls, SD
May and June passed quickly for Mandskor. Because of so many conflicts with graduations, weddings, etc., and making preparations for the Sioux Valley Singers Sangerfest, and our Chislic booth at the Sioux Empire Fair, singouts were few.
The first Monday in May was our regular rehearsal, followed by a joint Sioux Valley Singers Sangerfest practice hosted by Norse Glee Club at Nordic Hall in Sioux Falls on May 11. The four choruses making up SVS were well represented. Chuck Schuett, director of Nordic Men's Chorus our of Sioux City, where the biannual Sangerfest will happen on June 13, directed most of the Sangerfest numbers, assisted by directors of the other member choruses. Our own Deanna Wehrspann accompanied as no one else can.
The Norse Auxiliary, as usual, provided a wide array of delicious sandwiches and desserts, along with Norwegian coffee. There will be one more joint rehearsal on June 8, before the big day, at Morningside Lutheran Church in Sioux City, which is the site of the Sangerfest.
Ray and Juanita Schnabel are finalizing the production of brand new red vests for Mandskor members, which will be worn for the first time at the SVS Sangerfest. Several are finished. The rest are ready, except for the last fitting, and they are truly beautiful works of art.
The aforementioned joint rehearsal was preceded by a 2016 Sangerfest Committee meeting. Chair Marlan Velgersdyk of Mandskor said the agenda covered a wide range of subjects, mainly fund raising. Excellent progress is being made toward getting ready for the 2016 SIOUX FALLS SANGERFEST.
Curt Hepner (Grieg...Canton) is in charge of program ad sales, which will be the primary revenue source. A packet of information about ad sales, including sales tips, invoices, handling of payments, etc. has gone out to the SVS choruses.
Gourmet Guys, the annual fundraiser for Active Generations (where we rehearse) was held on April 19. Bill Hoffman, assisted by Larry Luinenburg and John Rasmusson manned the Mandskor booth.
Rømmegrøt, prepared by Bill and his wife, Marta, proved to be a popular item with the 600 plus or minus visitors. A little extra zip provided by a dash of Amaretto (or something equally Norwegian) had people coming back for seconds and thirds.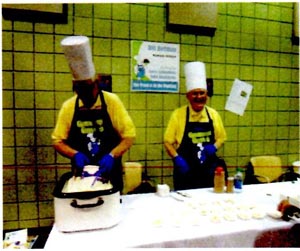 Larry Luinenburg and John Rasmusson prepare food for the Gourmet Guys fundraiser.
The wall sign reads:
Bill Hoffman Minnehaha Mandskor assisted by Larry Luinenburg, John Rasmusson.

"The Proof is in the Pudding."
On May 18, we held our monthly business meeting, presided over by Vice President Norm Braak, in the absence of President Marlan.
Significant items:
· Plans for the Kuchen-Chislic booth at Sioux Empire Fair August 2-9. The roof will be redone... target date is late June/early July. Members will do the work.
· CD's...9 sold at Edgerton. Need to sell 19 more to break even. NOTE: Plans are to use the CD cover design on the front of this issue of SangerHilsen. Thank you to Don Berg and Dennis Barnaal for this opportunity.



Respectfully submitted,
John Rasmusson, Corr. Sec.

Mandskor New Members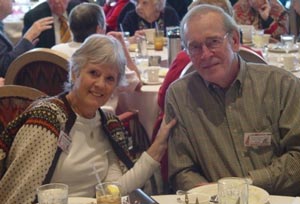 Charles and Judy Berdahl left Sioux Falls in 1961 and moved back from Denver in 2013. Upon his return Charles immediately began a search for a highly recommended men's chorus, thus he found Mandskor, of which he became a member in spring of 2015.
After graduating from Augustana, he began his work career as a mortician with Boom Funeral Home. He later graduated from Luther Seminary in St Paul and was ordained in 1965 at First Lutheran Church in Sioux Falls. He has a Doctor of Divinity degree from Lutheran School of Theology in Chicago.
Charles served churches in Milwaukee, Denver, Ames and Chicago. He also served as vice president of Development for Lutheran Social Services of CO and retired as a Representative for the ELCA Board of Pensions.
Charles is a third generation Norwegian whose grandfather arrived in a wagon train in Dakota Territory in 1873, near present day Garretson.

He and Judy have been involved with music for many years, including musical theater.


Judy was a teacher and they both enjoy reading, painting, the arts and golf. They love living on the busiest corner in Sioux Falls—11th and Phillips. They have been married for 57 years and have 5 children, 3 of whom live in Sioux Falls.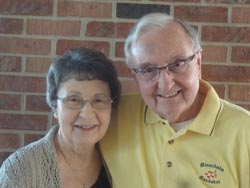 New to the Mandskor is Paul Opsahl. He joined the top tenor section in February 2015. He and his wife Marley Ann attended a concert last fall after which they visited with the director and members expressing interest in the group.
Paul is a retired pastor who grew up in Aberdeen, SD, has a BA from Yankton College and an MS from Hartford Seminary in Hartford, CT, and has done advanced studies at McCormike in Chicago. He also has an Honorary Doctorate from Yankton College, Yankton, SD.
Marley Ann is originally from Tripp, SD, and also graduated from Yankton College. She is retired from teaching. They both list music as a hobby. He is a reader and she likes to knit and crochet. The Opsahls have two grown children, Kevin and Kimberly.
____________________________________________________
VOLUME 104, NO.5 DECORAH, IA Sept.-Oct. 2014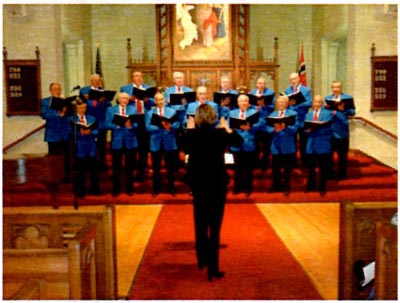 Minnehaha Mandskor at Norwegian Memorial Church
in Minneapolis, 5 Oct. 2014
MINNEHAHA MANDSKOR
Sioux Falls, SD
The Mandskor members resumed activities on the Monday after Labor Day. Rehearsal was followed by our business meeting.
There was an immediate need to brush up on selections for our concert at Good Samaritan Assisted Living on September 9, so most of the rehearsal was devoted to that. The concert went well, and the audience was appreciative. The rest of our practices in September through October 13 were concentrating on numbers we will sing at Mindekirken in Minneapolis, and those to be recorded at Dow Rummel on October 13.
We had two visitors recently who have indicated they would like to become members. John Christopherson (Ray Ode) of Brandon visited on September 8. On September 15, John returned, and another visitor from Sioux Falls, Bill Schoep (Larry Meyerink), was present John and Bill (both Bass II) have signed up for membership, have their jackets, folders, etc. As soon as they are voted on, they will be official. Welcome! Our goal of 30 members is in sight.
Jake Van Den Hul is at home now, recuperating from injuries sustained when his motorcycle was hit by a left turning car in Sioux Falls several weeks ago. Progress has been good, and we are hoping to have his Tenor II voice back (as well as the rest of him) soon.
Dr. Ron Beck (Bass I) developed chest pains on Saturday, September 27, and had angioplasty at the Avera Heart Hospital. He is now at home, getting ready for some rehab. At this time, we have no indication of how long it might be before he is able to come back.
The chislic Booth at the Sioux Empire Fair in August was very successful, thanks to the Supreme efforts of our president, Marlan, Don Cooper, Larry Meyerink, and almost 100% participation of everyone else. The trailer-booth combination worked extremely well, and with some fine turning will be ready for another fair in 2015. Anita Preheim's offer to store it over the winter is very much appreciated.
Financially, we came out better than last year, in spite of several rainy days. This project is a major undertaking. All who were involved are to be commended for their work and faithful attendance.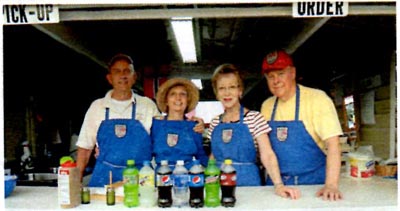 D. Cooper, T. Walter, C. Velgersdyk, M. Velgersdky
in Chislic Booth at Sioux Empire Fair, Aug. 2014
President Marlan is chair for the 2016 NSAA Sangerfest to be hosted by Sioux Valley Singers choruses (Minnehaha Mandskor and Norse Glee Club [Sioux Falls], Grieg Male Chorus [Canton], and Nordic Male Chorus [Sioux City]). The Sangerfest committee has met several times, and behind-the-scenes work is ongoing. Marlan and Director Terry will attend a meeting of the NSAA board in Ausitn, MN next week to give a report. The next meeting of the local committee will be on October 16 in Canton.
At this writing, the bus for the Minneapolis trip the weekend of October 4-5 is full. The weather forecast doesn't sound great, but with such an upbeat contingent, that is a minor problem.
On Monday, October 6, we will partake of the traditional Hobo Stew, along with cookies and bars, courtesy of our fine Auxillary members.




Respectfully submitted,
John Rasmusson, Corr. Sec.
Minutes for NSAA Board Meeting
October 18, 2014
Trumble's Restaurant, 1811 East Main Street, Albert Lea, Minnesota
President Marlan Velgersdyk called the meeting to order at 11:30 a.m. The agenda was prepared by Richard Leake and sent out earlier via email. Agenda accepted as distributed.
The following were present: Marlan Velgerdyk (President), Don Berg (Corresponding Secretary), Richard Leake (Recording Secretary), Terry Walter (Assistant Director), Roger Amdahl (Grand Marshall), Herb Nelson (Past President). Absent: Thor Fjell (VP-at large), James Slostad (Assistant Grand Marshall).
There were no additions or corrections to minutes of the NSAA Biennial Meeting in Minneapolis, June 14, 2013, which had been previously submitted and published in July-August 2014 issue of Sanger-Hilsen. Minutes approved as published.
Director-in-Chief David Judisch remarked about the great Sangerfest in 2014!! Directors have been asked for suggestions for next Sangerfest to be held in Sioux Falls, June 2016
President Velgersdyk thanked all for attending. Ideas and suggestions for Sangerfest 2016 have been given by Directors and others, and will be discussed later in the meeting. Plans are under way for Sangerfest 2016. No report was submitted by Vice Presidents. Corresponding Secretary Dong Berg made arrangements for this meeting. Rich Leake reported that the website continues to show high traffic, particularly the Sangerfest pages and for translations. We continue to maintain the three domain names [nsaaonline.com, nsaaonline.org, nsaaonline.net] for ease in finding NSAA information.
Financial report was given by Treasurer Francis Peterson. A brief history of NSAA finances from 2008-2014 was presented showing how current balances compare to previous years. Note that the primary source of income is membership dues and Sangerfest profits. The NSAA general checking account has a current balance of $8103.90. The report was received and approved.
Don Berg gave a report on Sanger-Hilsen. Don Berg and Dennis Barnaal report that new correspondence is coming in for the next Sanger-Hilsen, although often in different formats. The primary source of revenue is subscriptions and Board was reminded that each chorus needs to submit subscription dues for current membership. Printing errors continue to appear and are being resolved with the printer. Favorable comments were made about the pictures included in the Sanger-Hilsen. Continued contact is being made with PCNSA. Contributions for Christmas ads will continue to be solicited as in the past, hopefully to be paid by end of November. A few extra copies of current editions are available through the Corresponding Secretary upon request. (to be continued).
From Herb Nelson, past NSAA president.
Greetings all NSAA Members. Sangerfest 2014 CDs and DVDs continue to be available. The order form pictured does NOT have to be reproduced; just use it as a guide to make your order. E.g. one CD of Grand Concert only $10.00 or Both CDs $15.00, etc. Then send your request and check as instructed on the form. The form is available for downloading/printing on the NSAA Web site.
Thanks again to all who attended Sangerfest 2014. and for those who were unable to attend, a CD or Video is yours to order and enjoy.
Sangerfest 2014 CD and DVD Order Form
Quantity Amount
CD-Parade of Choruses-only $10.00 ________ $________
CD-Grand Concert-only $10.00 ________ $________
DVD-Parade of Choruses-only $10.00 ________ $________
DVD-Grand Concert-only $10.00 ________ $________
Buy both CDs $15.00 ________ $________
Buy both DVDs $15.00 ________ $________
Total: $_________
Ordered by and Ship to:
Name: ____________________________________Phone:___________
Street Address:______________________________________________
City: ______________________________State:______Zip: __________
Make your check payable to: Norwegian Glee Club. Mail check & order form to: Herb Nelson, 620 Oak St W., Stillwater, MN 55082-5623.

____________________________________________________
VOLUME 104, NO.4 DECORAH, IA July-August 2014
INTRODUCING OUR NEW NSAA PRESIDENT

Delegates to the business meeting of the Norwegian Singers Association of America took two bold steps during the election process. They honored the nomination by the Minnehaha Mandskor of Sioux Falls of Marlan Velgbersdyk, obviously not Norwegian in ancestry, and they elected Terry Walter, Director of Minnehaha Mandskor, as Associate Director of NSAA, the fist time a woman has been selected for such a leadership position.

Marlan was born at Hull IA, youngest of four sons. His father immigrated from Rotterdam in The Netherlands in 1909, while his mother was a farm girl from Northwest Iowa.
Marlan graduated from Hull-Western Christian High School, noted for its sports program, but no music!
His wife, Carol, is from Hospers IA. They have two sons and one daughter, six grandchildren and seven great grandchildren.
Marlan joined the Mandskor in 2011. He says, "I'm happy to be part of a Norwegian organization such as NSAA and Mandskor. It promotes quality music and takes responsibility for support of God, family and country."
Marlan retired from full-time employment at the end of July. He says the retirement of a husband is a wife's bull-time job.

From the Director-in-Chief

Dear Brother Singers,
Thank you to everyone who contributed to making the 2014 Sangerfest such a huge success! Herb Nelson and Carsten Slostad, particularly, should be acknowledged for their leadership before and during the Fest. They really know how to throw a great party!
Congratulations to the fine music directors we have across the Association. Their leadership and musical skills were obvious not only for the fine Grand Concert we had, but also for the outstanding Parade of Choruses concert (one of the finest in recent memory). I am so proud of all you singers for your great cooperation and for you mastery of the music that we performed together. Thanks to all the professional-level musicians who played or sang solos for us, as well as the elite group of singers on the Les miz piece.
I look forward to our next gathering in Sioux Falls in 2016.
Best wishes to you all! Tusen takk!

Dave Judisch,
Director-in-Chief, JSAA

MINNEHAHA MANDSKOR
Sioux Falls SD

With the 2014 Minneapolis Sangerfest now in the past, and having the official designation by the NSAA Board, the four choruses in the Sioux Falls area are gearing up to sponsor the 2016 Sangerfest.
Our own president, Marlan Velgerdsyk, is chair for the event, and is busy laying the groundwork. The main committee appointments have been finalized, and meetings have been held. The Sioux Falls Convention and Visitors Bureau is on board. They have been very helpful. More to come in future Sanger Hilsen articles.

Jerry Muchow, Larry Meyerink, and Don Cooper were up before 4:30 am, to beat the traffic, when they moved the chislic shack to the fair grounds.
Besides planning for the Sangerfest, Minnehaha Mandskor has been very busy getting ready for another CHISLIC BOOTH at the 2014 Sioux Empire Fair in Sioux Falls, August 1-10. A new trailer has been delivered, and the booth has been mounted on it.
Larry Meyerink has been the primary mover and shaker in having the trailer built and delivered, as well as attaching the booth to the bed. Duty assignments have been made for the ten day project. All of the chorus members have signed on to work at least two four-hour shifts.
This project has been very successful in the two years it has been done. The original idea came from our late President Kirk Preheim. Kirk's wife, Anita, has continued to be active in the Auxiliary, and has been a great help.
On July 28, members and wives enjoyed a wonderful potluck, followed by rehearsal for a concert at the Fair on Sunday afternoon. Director Terry was able to reserve the Front Porch (the most desirable venue on the fairgrounds, having an outdoor amphitheater surrounded by big trees) for this event.
After practice, President Marlan called a business meeting to iron out details for setting up and manning the chislic booth. Various kinds of insurance were discussed. Other subjects addressed included selection and approval of our director and accompanist for the coming year.
Terry Walter will be returning as Director, and Deanna Wehrspaan as accompanist. Larry Meyerink will be Assistant Director. Treasure Roger Amdahl handed out checks to members who attended the Minneapolis Sangerfest. Attention was called to the fact that Board elections will be coming up in October.
BREAKING NEWS ... Terry announced that Tony (Tenor I) and Bobbi Jo Leggett welcomed a son, Elijah, on July 25. Hurrah for the Leggett family!!

Bobbi, Elijah, and Tony Leggett

CONGRATULATIONS... to Pres. Marlan upon retiring from Fireplace Pros after several years of successful salesmanship with the company. His retirement is effective on Friday, August 1. The Mandskor is most fortunate to have Marlan among us, singing, persuading, and bringing the hammer down when necessary (smiling and cracking jokes all the while).
All is in place for our annual overnight bus trip to Minneapolis on October 4-5. We will arrive in the Twin Cities in time to go on a noon luncheon cruise around Lake Minnetonka. Dinner and evening entertainment (Johnny Cash Show at the Plymouth Playhouse) will be at the Kelly Inn (Highway 55 and I-494). The bus is nearly full. Members, spouses and quests (mainly recruited by Member Ray Ode and his wife, Bonnie) will make the trip. Sunday morning we will sing at one of the Mindekirken serves before departing for Sioux Falls.
A recording session is scheduled for Monday, October 13, at Dow-Rummel. Our last attempt at doing this was less than successful due to a technological glitch that destroyed the hard drive. After many unsuccessful attempts to recover the lost data, it was determined that the only solution is to do it again.
Our regular routine of Monday rehearsals will resume the first Monday after Labor Day. President Marlan launched a new member campaign at the July 28 meeting, with a goal of increasing our roster to thirty members. Business cards have been printed with information about the chorus, phone numbers, email addresses, etc. to make it easy for prospects to respond. Marlan stressed the importance of follow-up once contact has been made.
Respectfully submitted,

John Rasmusson, Corr. Sec.

Mandskor New Member Profile
Doug Van Roekel

Doug Van Roekel is a new member to the Mandskor in the fall of 2013. He was invited by baritone Larry Meyerink and has joined the first tenor section. Doug and his wife Donna moved to Sioux Falls in 2012. Before that they lived in Worthington, MN, where Doug spent 30 years in car sales. He retired in 2012. Doug lists his hobbies as fishing with his grandson, eating out, and antiquing things for Donna. The Van Roekels have 2 children - a son Dana who sings with him in the tenor section, and a daughter Denae Klinenborg. Doug and Donna attended their first Midwest Sangerfest in Minneapolis, June 2014. We hope this is the first of many!

Donna and Doug Van Roekel
Mandskor New Member Profile
Dana Van Roekel
Dana Van Roekel joined the Mandskor in the fall of 2013. He sings top tenor next to his dad Doug. He grew up near Bigelow, MN, and attended school in Worthington, where he sang in the high school choir. University of Minnesota-Morris was his next stop.


Dana Van Roekel

Although, Dana is a "computer guy", his first career began when he started working at a local grocery store in high school. He climbed the ladder to management at Econo Foods in Sioux Falls, but when they closed, he moved on. Next stop was as a phone tech for Gateway, until they closed.
City Bank took him on in accounts payable and then moved that part of the business to Florida. Happily Dana stayed here. Being a resourceful person, he started his own computer business. What better way to know that the business won't close or move. Dana's Computer Services has been in operation since 2002. Dana lists his singing as his hobby.
____________________________________________________
VOLUME 104, NO.3 DECORAH, IA May-June 2014
MINNEHAHA MANDSKOR
Sioux Falls SD
April activities started with a sing out at Dow-Rummel Retirement Village, where we always enjoy the excellent acoustics n the chapel. The crowd was sizable and appreciative of our efforts.
On April 21, we made the trip to Canton, a few miles south of Sioux Falls, for another in the series of joint rehearsals with the other Sioux Valley Singers choruses to work on the Minneapolis Sangerfest music.
The 2016 Sioux Falls Sangerfest committee, which includes representatives from all of the SVS choruses, met prior to rehearsal. Chair Marlan Velgersdyk updated the committee about preparations for the 2016 event, including how to promote it it Minneapolis. He said the Sioux Falls Convention and Visitors Bureau has been very helpful, and is planning to send people to Minneapolis. Lyle Kroon, of the Norse Glee Club, is coordinating with SFCVB.
Rodney Hoff (Norse) reported that he has been in contact with the Everett, Washington chorus, and asked if we should send an invitation to the West Coast choruses for 2016. (A letter has been sent, inviting them.)
The next joint rehearsal will be June 9, hosted by Minnehaha Mandskor at Active Generations in Sioux Falls. This will be the last rehearsal before Minneapolis.
We sang at Brandon Lutheran Church (Ray and Bonnie Ode, and Bruce and Leslie Duncan belong there) for the 8:30 service on April 27, followed by a concert at Trail Ridge Senior Living in the evening on May 15. On Sunday, May 18, we were at Zion Lutheran in Garretson, where Jerry and Karen Muchow are members.
We look forward with great anticipation to the meeting in Minneapolis.
Respectfully submitted,


John Rasmusson, Corr. Sec.

__________________________________________________

Mandskor Member Spotlight
Kirk Preheim
(This was inadvertently published in this issue. Kirk passed away in March 2013. Anita continues as a member of the auxiliary and serves as their treasurer.)
Kirk Preheim sings first tenor with the Mandskor and was in his first year (2012) as president of the organization. He joined at the invitation of then director Ken Mannes, in the late 80s. Ken had been his high school director.
Kirk sang for a short time but returned again at the urging of current director Terry Walter. Kirk grew up in a singing family that lived in a singing community and he has continued that legacy. He has sung in church choirs and numerous quartets including the Half Ton, New Life, and finally Master's Voice for 22 years. Most recently, he has put together the Gospel Gold quartet. Wife Anita manages the sound and promotional aspects.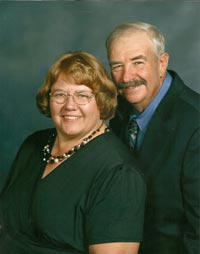 Kirk and Anita Preheim
Kirk and Anita have been married since 1971, soon after graduating from Freeman Academy in Freeman, SD. Kirk also attended South Dakota State University. They have 3 children Anton (computer programmer), Dustin (landscaper) and Karen (nurse practitioner) and 6 grandchildren. The Preheims own and operate Preheim Landscaping.
Hobbies include fishing, traveling (they have spent extended time in Europe visiting their numerous foreign exchange students), cooking, and entertaining. Anita is also a fine photographer. Developing their recording studio is part of their retirement plan and singing will always be part of their lives.
__________________________________________________

Mandskor Member Spotlight
Larry Luinenburg
Larry and Roxine Luinenburg are new to our Mandskor family. Larry sings bass and was invited to our group by member Marlan Velgersdyk. They were classmates in high school and reconnected recently at a class reunion. A native of Worthington, MN, Larry attended high school in Hull, IA, and focused on economic in college at Dordt in Sioux Center, IA, and Calvin College in Grand Rapids, MI.
His work as a programmer has taken him from Michigan, to Minneapolis, to Sioux Falls, where he worked for Citibank and helped move the credit card processing from New York to South Dakota. He retired in 2002, and recently moved back to Sioux Falls after 19 years in Baltimore, MD, where he was involved in the merchant business.
Wife Roxine worked in management at Marquette Bank in Sioux Falls and as an office administrator for their church in MD.
The Luinenburgs have 2 children, Bruce and Kristi and 4 grandchildren.
Both Larry and Roxine enjoy singing (Mandskor and church choir) and travel. Larry also enjoys photography, especially nature and wildlife.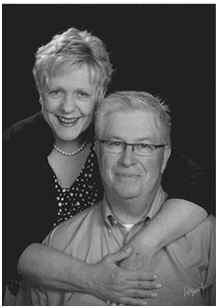 Roxine and Larry Luinenburg
____________________________________________________
VOLUME 104, NO.2 DECORAH, IA Mar.-Apr.2014
MINNEHAHA MANDSKOR
Sioux Falls SD
In March, Mandskor, along with Norse (Sioux Falls), Grieg (Canton), and Nordic (Sioux City) started planning for the 2016 NSAA Sangerfest, which will be hosted by the four choruses from the Sioux Falls area (Sioux Valley Singers). Mandskor President Marlan Velgersdyk agreed to accept the position of chair.
Each chorus is represented by one or more members on the Sangerfest committee. Decisions have been made concerning the site, hotel, and preliminary organization. The myriad of details is daunting, but excellent progress has been made. Important areas of responsibility have been identified, and assignments for key jobs have been made.
Rehearsals in March concentrated on the Minneapolis NSAA 2014 Sangerfest music. Our director, Terry Walter and her husband Don Cooper were cruising through the Panama Canal, being out of the city for two weeks. Larry Meyerink filled in for Terry while she was gone. Larry's expertise and patience were greatly appreciated.
As he has done the past few years, Don Cooper will head up a Mandskor booth at the Gourmet Guys event at Active Generations in April, assisted by Tony Leggett. The booth this year will feature a delicious sausage. Gourmet Guys is the main fundraiser for Active Generations, where we hold our rehearsals. While Mandskor covers all expenses relating to the booth, Don does all the planning and execution.
The business meeting n March 10 included a long discussion about replacing or rehabilitating the Mandskor banner in time for Minneapolis. No consensus was reached about proceeding, but there will be further study before the next meeting. Other concerns included a report from Larry Meyerink about the possible purchase of a trailer to haul the Sioux Empire Fair Booth.
Our next performances are April 14, at Dow-Rummel Retirement Village and April 27, at Brandon Lutheran Church (Ray Ode and Bruce Duncan are members there). We are looking forward to our first pre-Sangerfest joint rehearsal with the other Sioux Valley Singers choruses at Nordic Hall on Monday, March 31, under the direction of our own Terry Walter.
Respectfully submitted,


John Rasmusson, Corr. Sec.

____________________________________________________
VOLUME 104, NO.1 DECORAH, IA Jan.-Feb.2014
MINNEHAHA MANDSKOR
Sioux Falls, SD
The months of December, 2013 and January, 2014 were relatively quiet for the Mandskor.
Because it happened after the deadline for November-December, it should be noted that Chorus member Bill Hoffman and his wife, Marta, hosted a number of us at his home following the November 25 rehearsal for an enjoyable time of fellowship, drinks, and appetizers.
Our last official activity for 2013 was the Christmas party on December 2. As usual, it was a festive evening of delicious food, a little wine, and entertainment by three quartets. The quartet members included several from Mandskor & Gospel Gold (Bill Hoffman, Bob Viet, Dennis Wollman, and Jake Van Den Hul), The Messengers (Marlan Velgersdyk, Bob Viet, Ray Schnabel, and Brent Tjeerdsma), and Mogen's Heroes (Bill Hoffman, John Mogen, and Denny Gale). The Auxiliary ladies did a wonderful job of decorating, providing goodies, and organizing a hilarious game with prizes to close the program.
On December 17 we participated in a program of music following the services for Phyllis (Jake) Van Den Hul at First Christian Reformed Church in Sioux Center, Iowa. Phyllis was an auxiliary member, and loved life and all kinds of music. Phyllis passed away December 12, after a battle with ovarian cancer.
Activities for Mandskor will resume on Monday, February 3. Rehearsals will be focused on preparing for the NSAA Sangerfest in Minneapolis in June. Joint rehearsals with the other Sioux Valley Singers choruses will start on March 31, hosted by the Norse Glee Club.
Respectfully submitted,



John Rasmusson, Corr. Sec.
_______________________________________

on page 12

48th Biennial Sioux Valley Sangerfest Minutes
(continued from Sept. Oct. 2013 Sanger-Hilsen, p.13
New Business
MSC(Stone/Amend) that a memorial service honoring the following deceased members be included in the 2013 Sangerfest Concert Program:
Minnehaha Mandskor: Winston Hill, Myron Larson, Kirk Preheim, Robert Stenberg
Norse Glee Club: Gene Bennet, Elmer Hovland, Stanley Hesby,
Grieg Male Chorus: Maynard Lintvedt, Nordic Male Chorus: John M. Kvidal
Awards. MSC that the following Sioux Valley Singers Association medals be presented and members recognized:
Names are listed on page 5, July-Aug. 2013 SangerHilsen
President Hepner presented a letter to Board of Directors by Joe Issakson dated May 6, 2013 in regard to creating a storage container (box) to store historical materials for the Sioux Valley Singers Association at the Center for Western Studies at Augustana College in Sioux Falls, SD. Letter was read to the delegates by Secretary Beck. Copy attached to minutes.
MSC(Gail/Marlan) to direct secretary to submit SVSA historical data/copies to the Center for Western Studies.
Medals exchange procedure discussed. Medal recipients to turn in the former medal for a new medal with the appropriate bar attached to simplify the process during presentation of the medals.
Sangerhilsen ads discussed. M/S/C to authorize payment for next two $45 Christmas ads and $15 club index fee.
President Hepner discussed new policy by NSAA for recognition of members who have completed 20, 25, or 30 or more Sangerfests. This would be a plaque and a special gold lapel pin. Also a lapel pin for 5, 10 and 15 years. No objection was given on this by the delegates.
After considerable discussion on whether or not the SVSA should consider having 501 C-3 status for the 2016 NSAA Sangerfest it was moved by Ode, second by Kortemeyer to direct the executive committee to pursue the cost of 501 C-3 status for the SVSA and then proceed with how to fund the cost. Motion carried.
Selection of next convention city:
Invitation by Gary Munson from Nordic Male Chorus to host the 2015 SVSA Sangerfest in Sioux City, Iowa.
M/S/C(Stene/Kortemeyer) to accept the bid from Nordic Male Chorus.
Election of officers
The following were nominated for the various elected positions:
President Ed Stone Nordic Male Chorus
Vice President David Lien Norse Glee Club
Secretary Ronald Beck Minnehaha Mandskor
Treasurer David Stene Norse Glee Club
Marshal Larry Weil Nordic Male
Chorus Director Lyle Kroon Norse Glee Club and Terry Walter Minnehaha Mandskor
Associate Director Chuck Schuett
A secret vote was cast for the position of director which resulted in Terry Walter being elected as Director.
A separate vote was taken for the balance of the officers. All in favor.
Closing prayer was given by President Hepner.
M/S/C Meeting adjourned.
Ronald D. Beck, Secretary SVSA


____________________________________________________
VOLUME 103, NO.6 DECORAH, IA Nov.-Dec. 2013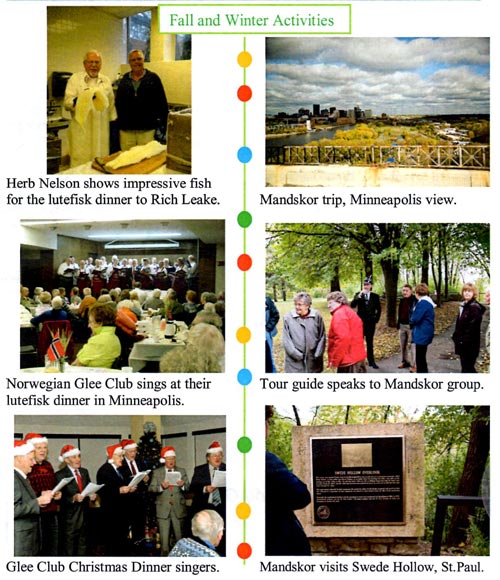 MINNEHAHA MANDSKOR
Sioux Falls, SD
The not-so-competent Corresponding Secretary for the Minnehaha Mandskor overlooked the deadline for the September-October issue of Sanger Hilsen. So far he has not been threatened with expulsion, but will be allowed to continue, providing that he promises to be more observant of deadlines in the future.
Our chislic-kuchen booth at the Sioux Empire Fair was well-received by the fairgoers again this year. Thanks to the significant effort put forth by President Marlan Velgersdyk and Don Cooper, as well as excellent cooperation from our members and significant others who dutifully took their turns working, the outing was very successful financially and in every other way. Sixteen hundred DOZEN sticks of chislic were sold! The Board has decided we should do a repeat in 2014.
Since the last Sanger Hilsen article (July-August), we have had the good fortune to welcome a few new singers: Derrick McKenna (Tenor I, 6-13), Tony Leggett (Tenor I, 7-13), Doug Van Roekel (Tenor I, 9-13), Dana Van Roekel (Tenor I, 9-13).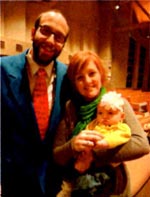 Derrick McKenna and wife Stephanie with new daughter Harper Grace.
Ty Henschel, who was with us for a short time, dropped out because of work demands. The other voices (Tenor II, Bass I, and Bass II) are struggling with making themselves heard these days.
September and October rehearsals were devoted mainly to preparing for a recording session held on November 4 at the Brandon Lutheran Church. We are grateful to the church for allowing us to use their facilities, and to Ray Ode for making the arrangements. Sound technicians were Mike Jackson, from Minneapolis, and Anita Preheim, wife of Kirk Preheim, our late President. Their expertise was an extremely important factor in producing our CD.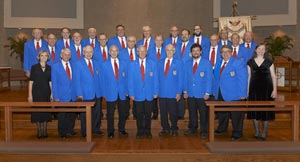 Mandskor recording night.
On October 5, the Mandskor sang for the funeral of Loyd Erickson at First Lutheran Church in Sioux Falls. Lloyd was the brother-in-law of Don Cooper and Terry Walter, our director.
At the annual business meeting on October 14, officers for the coming year were chosen, including Marlan Velgersdyk, President; Norm Braak, Vice President; Roger Amdahl, Treasurer; Ray Ode, Assistant Treasurer; John Rasmusson, Secretary and Corresponding Secretary; Larry Luinenburg and Larry Meyerink, Co-Librarians; Jerry Muchow, Assistant Librarian; Ron Beck and Bob Viet, Co-Marshals. New Board members are Ron Beck and Larry Meyerink, for three year terms.
On the weekend of October 26-27, a number of Chorus member, wives, girlfriends, and a few other non-members traveled to Minneapolis for what has become an annual outing. On Saturday afternoon the group visited the Historic Wabasha Street Caves, and went on the St. Paul Gangster Tour.
A buffet dinner was enjoyed at the Kelly Inn, followed by the production at the Plymouth Playhouse, The Last (Potluck) Supper. The last event was to sing at Grace Lutheran Church, where Dr. Olaf Malmin (formerly at Augustana College in Sioux Falls) is Director of Music. Back to Sioux Falls in the afternoon with a lunch stop at Perkins in Albert Lea.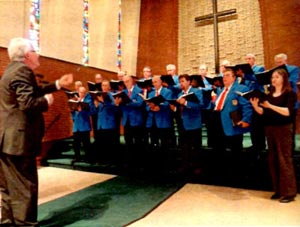 Dr. Malmin conducts the Mandskor at
Grace Lutheran Church, St. Paul MN.
As we have for the past several years, we participated with four other choruses in the Festival of Men's Voices on November 3 at the O Gorman Lorang Theater. This annual event is a benefit for the Banquet's SOS project, which supplies school supplies for children in need.
We will sing at the birthday celebration for our long time member, John Nelson, on Saturday, November 16, at Our Savior's Lutheran Church in Sioux Falls.
On Thursday, November 21, we are scheduled for a concert at First Christian Reformed Church in Sioux Falls, where our member, Larry Luinenburg, belongs.
Bob and Arlene Stenberg's daughters (Candace, Roxanne, and Sheryl) have given a Kawai grand piano to Bob and Arlene's Church, the Lutheran Church of Dell Rapids, in their memory. It will be dedicated on November 24, and we have been asked to sing. Bob and Arlene were mainstays of the Mandskor for over 50 years. They both passed away early this year.
The Christmas Party will again take place at the Sioux Valley Energy building in Brandon on December 2. Thank you to Ray and Bonnie Ode for making the arrangements.
Our numbers will be down by a few from now through sometime in the spring. Roger Amdahl and Jerry Muchow have departed for Mesa, Arizona, leaving town just before the snowstorm of November 5.
This about wraps it up for now. Respectfully submitted,



John Rasmusson, Corr. Sec.


__________________________________________
VOLUME 103, NO.5 DECORAH, IA Sept.Oct. 2013
From the NSAA President
Greetings Ladies and Gentlemen of the Norwegian Singers Association of America,
Another season of sharing our Scandinavian Heritage in song has begun and I hope your schedules are full of sharing opportunities.
Sangerfest 2014 planning continues full speed ahead. A block of rooms has been reserved at our host hotel Courtyard Minneapolis Downtown, 1500 Washington Ave S, Minneapolis, MN 55454. The cost of a room is $121.00/night plus tax and the Executive Suites are $181.00/night plus tax. Arrivals as early as three days prior to June 12, 2014 and departures up to three days after June 14, 2014 may be reserved at the same rate of $121.00 plus tax or $181.00 plus tax, providing rooms are available. The hotel has been completely renovated in 2013.
You may begin making your advanced reservations by calling 1-888-236-2427. The reference name is: "Sangerfest 2014". Also be prepared to use the Booking Codes below that describe the rooms.


If you prefer to use an online reservation, go to the website www.marriott.com/mspdc.
Here is a quick on-line reservations procedure;
1. Go to: www.marriott.com/mspdc
2. Enter Check In and Check Out Dates
3. Number of Rooms and Number of Guests
4. Click on Special Rates & Rewards "+" box
5. Check 'Group Code'
6. Enter your choice of Booking Codes
1. Double Queen Rooms SGFSGFA
2. King Rooms SGFSGFB
3. Executive Queen Suite SGFSGFG
4. Executive King Suite SGFSGFF
7. Continue to enter credit card information, etc. The host hotel is near downtown Minneapolis, not in downtown. The area is called "Seven Corners" and across the street is the West Bank of the University of Minnesota. Within walking distance of the hotel, in the U of M West Bank area, is the Ted Mann Concert Hall where all rehearsals, Memorial Service, Parade of Choruses, Afterglows, and Grand concert will be held. (All other events will be at the host hotel). There is a parking structure next to the hotel that is operated independently from the hotel. Arrangements can be made when you register at the hotel to have the daily rate charged to your hotel bill and the hotel will provide a "in and out" pass to be used during your stay that will allow unlimited entries and exits each day.
A couple of Sangerfest 2014 highlights: 1) Friday outing for the ladies will be a luncheon cruise aboard a paddle boat on the Mississippi River. 2) We will be joined by a 16 voice male chorus from Norway. 3) Tentative plans are being considered to have "mini" tours on Friday and Saturday mornings pending signup interest on Thursday June 12, for those who are not otherwise involved in meetings or other organized outings. 4) A special room for Vendors which we will call the Nordic Butikk will be open for business. 5) Also there will be a raffle for special, collectible, one of kind items. Hmmm, I said just a couple of highlights......you can readily see that we are excited about planning a "good time" for our Brothers and Sisters of the NSAA!
Enjoy the beautiful fall colors, and fill your lives with good friends in front of a roaring fire until we see you next June at the 60th Biennial Sangerfest 2014.
The officers of the NSAA held a board meeting at the Sangerfest 2014 host hotel in Minneapolis on Sunday October 13. Minutes of that meeting can be found elsewhere in your Sanger Hilsen copy.

President Herb Nelson
_________________________________________________
on page 13

Minutes of the 48th Biennial Sioux Valley Sangerfest


The business meeting of the 48th Biennial meeting of the Sioux Valley Singers Association was held on June 15th, 2013 at the Bethany Reformed Church in Canton, South Dakota with President Curt Hepner presiding. The meeting was called to order at 10:30 a.m.
Roll call of officers President Curt Hepner


Vice President Ed Stone Marshal Robert Bergren not present Secretary Ronald Beck Director Lyle Kroon


Treasurer David Stene Associate Director Lane Karli


Credentials for 9 delegates presented


Larry Weil Norse Glee Club Gary Munson Nordic Male Chorus


Gail Christiansen Norse Glee Club K. Roger Johnson Nordic Male Chorus


Warren Eitreim Norse Glee Club Marlan Velgersdyk Minnehaha Mandskor


Bill Kortemeyer Grieg Male Chorus Ray Ode Minnehaha Mandskor


Lyle Schwartz Grieg Male Chorus


Reading of minutes of 47th Biennial Sangerfest by Secretary Ronald Beck, M/S/C.
Treasurer's report by David Stene showing a balance forward of $1006.18 on June 1, 2011 and closing balance on May 31, 2013 of $903.21. Copy attached to minutes.

M/S/C to approve.

Secretary's report


Chorus performed at 47th Biennial Sangerfest in Brandon SD on June 11th, 2011 at Brandon Lutheran Church in Brandon SD. and at the 59th Biennial Sangerfest in St. Charles IL on June 16th, 2012. Plans are being made to perform on June 21st at the Dalesburg Church in Vermillion and the St. Paul Lutheran Church Sesquicentennial in Elk Point SD on July 20th, 2013. Letter of greeting to President Herb Nelson by President Curt Hepner was read to the delegates. Copy attached to minutes.


Election of new members


President Hepner read the names of first time attendees to a Sioux Valley Sangerfest.


Minnehaha Mandskor: Larry Luinenburg, Larry Meyerink, James Pollmann, Ray Schnabel, Marlan Velgersdyk, Bob Viet, Derrick McKenna


Grieg Male Chorus: Augie Borchart, Doug Olseth


MSC (Ode/Munson) that these singers be accepted as members of the Sioux Valley Singers Association.


Discussion on the pictorial directory and that each chorus should email Terry Walter at terrywalter@hotmail.com with contact information of new members in their chorus. She will have a picture taken and have their information added to the directory. Ron Beck mentioned the website www.minnehahamandskor.org for information about the Minnehaha Mandskor and links to other sites.


President Hepner informed the delegates that the proposal to have 501 C-3 status for all member choruses was not approved by NSAA.


David Stene mentioned that Bob Bergren was elected as Marshal at the last Sioux Valley Sangerfest in 2011.


The treasurer's report showing a beginning balance on June 1, 2011 of $1006.18, income of $897.03, expenses of $1000, and an ending balance of $903.21 as of May 31, 2013 was presented by David Stene. Report was audited on 5/15/13 by George W. Regan and found correct. MSC (Larson/Muchow).

(to be continued)
_________________________________________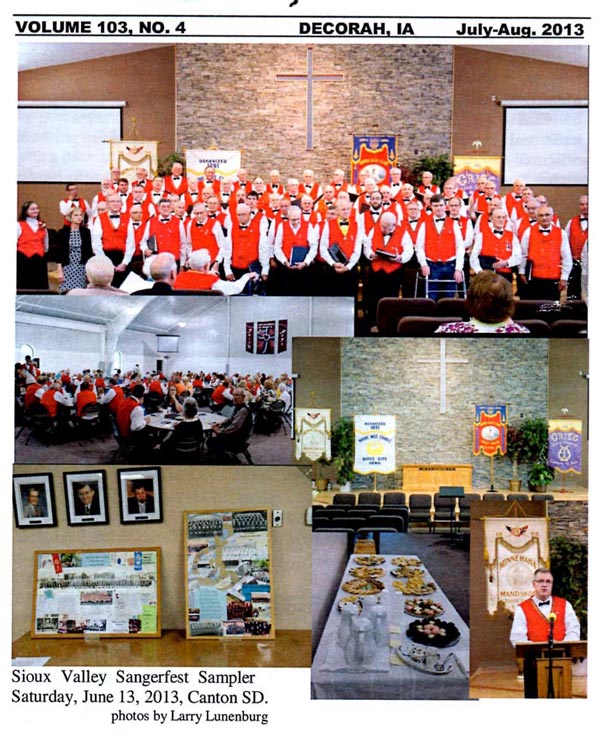 MINNEHAHA MANDSKOR
Sioux Falls, SD
The 2013 Sioux Valley Singers Sangerfest, held on June 15 at the Bethany Reformed Church in Canton, SD, was a huge success. Hosted in GRAND style by the Grieg Male Chorus, it was well attended, and in every way was well planned and executed. Mange Takk, Grieg. Our director, Terry Walter, was elected Director-In-Chief at the business meeting succeeding Lyle Kroon, who has so ably served for the past many years, Another Mange Takk to Lyle.
Marlan Velgersdyk read Dr. Wayne Mitchell's letter announcing his retirement from Minnehaha Mandskor. We will miss having Wayne in our chorus, hearing his amazing tenor (sometimes baritone) voice coming from the back row. Additionally, we will miss his solo performances. His lovely wife, Doris will be missed as well. We wish both Wayne and Doris happiness and success in the future.
Several members participated in two Sioux Valley Singers events recently:
- On Friday, June 21, at Dalesburg Lutheran near Yankton, SD.
- On Saturday, July 20, at St. Paul Lutheran Church near Elk Point, SD.
The summer picnic this year was combined with a rehearsal of the music for the fair, a business meeting to discuss final plans for the chislic booth, and a board meeting. All of these events happened on July 29, at Active Generations.
The Sioux Empire Fair in Sioux Falls opened on Friday, August 2, and will continue through Sunday, August 11. The Mandskor booth is again selling chislic...deep fried. The extra days have presented a challenge and several members will be working overtime to fill out the work schedules. Fortunately, our auxiliary members will help fill in the gaps. President Marlan Velgersdyk, along with Don Cooper, have done a wonderful job of coordinating plans for the booth. Anita Preheim (wife of the late Kirk Preheim who was our President) has given a huge amount of help. FOR DEM HURRAH! Mandskor performed for a small crowd at the Fair on Saturday.
Terry, who not only serves as our Director, but also our trip planner, has put together the plans for our annual fall trip to Minneapolis on the weekend of October 26-27. The format is similar to past years, with an early Saturday morning departure, a visit to the Historic Wabasha Street Caves in St. Paul, and the St. Paul Gangster Tour in the afternoon. In the evening, arrangements have been made to attend the Plymouth Playhouse production "The Last (Potluck) Supper". On Sunday, we will sing at Grace Lutheran Church in St. Paul before returning to Sioux Falls.


John Rasmusson, Corr. Sec.
__________________________________________________

Mandskor New Member Spotlight
Hoffman
Bill and Marta Hoffman are new to our Mandskor family this year. Bill, from Redfield SD, and Marta from Aberdeen SD, met while in school at Northern State University in Aberdeen SD and were married in 1987. Their first teaching jobs took them to Faulkton and Polo SD. Having been a band director for several years in Harrisburg SD, where Mandskor singer Kirk Preheim's children attended school, Bill's musical talent was something Kirk decided to rein in for the chorus. His range is extensive, and although he started in the top tenor section, he's now happily singing bass.
For the last 13 years, Bill has been working as an insurance agent for Horace Mann. He performs as a drummer/singer with Mogen's Heroes and as a baritone with Gospel Gold Quartet. Marta is a technology integrationist at Journey Elementary, in Sioux Falls. They have 2 daughters. Ali just graduated from Augustana College with a major in music and will teach in Sioux Falls this fall. Carli is an art education major at South Dakota State University.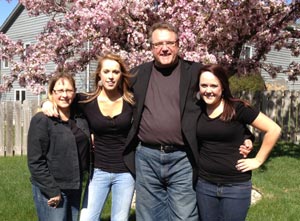 Bill Hoffman and family
_________________________________________________

Mandskor New Member Spotlight
McKenna
New to the Mandskor in the last few months is Derrick McKenna. Mandskor president Marlan Velgersdyk approached him at church and convinced him to give the chorus a try. Mandskor happily welcomes him to the first tenor section. Derrick is a Sioux Falls native and Augustana graduate. While at Augie, he sang in concert choir for Dr. James Johnson.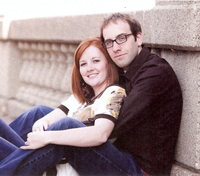 Derrick and Stephanie McKenna
McKenna lists his occupation as Customer Service/Inside Sales at Würth Adams. His wife Stephanie is a Special Education Assistant at Brandon Elementary. They live in Brandon SD. Hobbies include biking, playing guitar and family time. Since the McKennas are expecting their first child, a daughter, in the very near future, it's a good bet that family time will be topping that list. The Mandskor shares their anticipation. It's been some time since the group has had the opportunity to share in that joy with a chorus member's family.
_________________________________________________________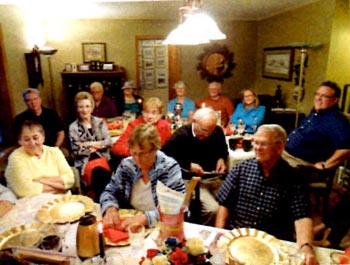 Mandskor Fundraiser dinner, May 11, 3013,
hosted by director Terry Walter and Don Cooper.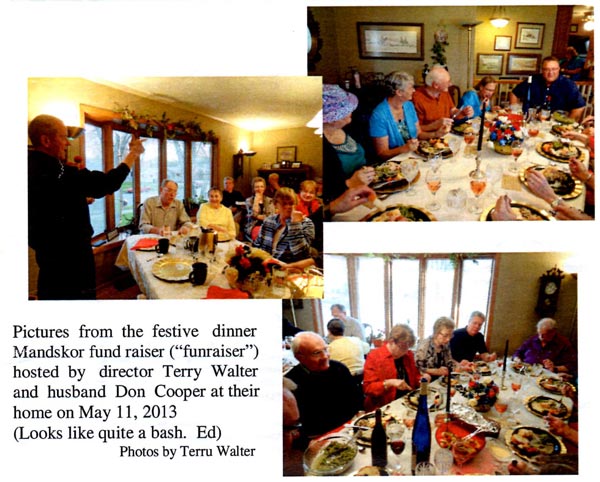 _________________________________
VOLUME 103, NO.3 DECORAH, IA May-June 2013
MINNEHAHA MANDSKOR
Sioux Falls, SD
The time remaining until the Sioux Valley Singers Sangerfest on June 15 is very short. Only one joint rehearsal remains. This festival, hosted by the Grieg Male Chorus in Canton, SD, will be held at Bethany Reformed Church in the Norwegian community of Canton.
We have gained another member since the last Sanger Hilsen...Derrick McKenna, from Brandon, SD. Watch for a Spotlight about Derrick in a future issue.
Bob Stenberg, who was suffering from a recurrence of cancer, as reported in the last issue, passed away on April 18. The chorus was honored to sing at his funeral on April 24, at the Lutheran Church in Dell Rapids.
Phyllis VanDenHul, wife of Jake, seems to be holding her own; she still sings with her niece and Jake in a gospel trio, and was an enthusiastic fan at the Canaries game on June 6. Norm Braak's wife, Faye, is nearly back to normal after her eye surgery. Roxine (Larry) Luinenburg has undergone serious eye surgery, and is well along with her recovery.
Mandskor has performed on several occasions recently:
- Saturday, April 13, at Orchard Hills Retirement and Assisted Living in Dell Rapids.
- Wednesday, April 24, at Bob Stenberg's funeral.
- Friday, May 17, at the Syttende Mai banquet (Our Saviors Lutheran Church).
- Saturday, May 18, at Luther Manor Nursing Home in Sioux Falls.
- Thursday, June 6, sang the national anthem for the opening ceremonies at the Sioux Falls Canaries baseball game with Winnipeg.
Active Generations, where Mandskor rehearses on Monday nights, held its BIG annual fundraiser on Sunday, April 21. Mandskor sponsored one of the booths. Our own Don Cooper, assisted by Jerry Muchow, under the theme of "Choraled Lamb on a Stick", served about 700 bite-sized portions of the delicacy. Don and Jerry deserve a big FOR DEM HURRAH! for their imagination and efforts. See the accompanying photo.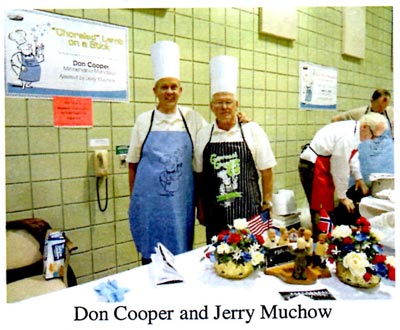 Plans are taking shape for the Mandskor chislic booth at the Sioux Empire Fair in Sioux Falls from August 2 through August 11.
Mandskor will participate with the other Sioux Valley Singers choruses in hosting the 2016 NSAA Sangerfest. Plans are in the early stages.




John Rasmusson, Corr. Sec.
_____________________________________
Mandskor New Member Spotlights
Larry Meyerink is new to Mandskor this year. He was invited by then president Kirk Preheim. Larry is a Platte, SD, native, where he attended Dakota Christian High School. After graduating from Southern State Teacher's College, he taught 3 years in South Dakota and 21 years in Iowa, 18 of which were spent in Pocahontas, Iowa. He directed the Pocahontas Community Chorus for 24 years. From 2010-2012, he directed a 26 voice men's chorus from the central South Dakota area. Before coming to Sioux Falls, Larry worked for a property management firm in Mitchell, SD. Currently, he works for "Groundwater", a landscaping business owned by his son.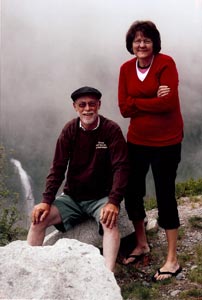 Larry and Nancy Meyerink
Larry is married to Nancy, who is a sales associate for Riddle's Jewelry. They have 3 children, Lance, Larissa and Leah. Golfing and fishing are Larry's hobbies and as is evidenced by his long involvement with choral music, he wants to keep the art of traditional 4-part harmony alive.
Tyrone "Ty" Hentschel
Singing baritone with the Mandskor since 2012, is Tyrone "Ty" Hentschel. He came at the invitation of fellow baritones Ray Ode and Bruce Duncan, with whom he sings in the choir at Brandon Lutheran Church. Ty and wife Michelle live in Brandon, SD, with their 2 sons Zach, 11, and Xander, 10. Ty is self employed in construction management and Michelle is a senior financial analyst for Raven Industries.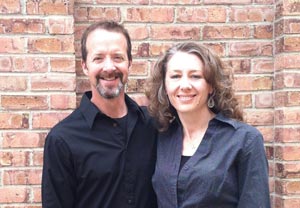 Ty and Machelle Hentschel

Born in Havre, Montana, Ty moved to Brandon from Spokane, Washington. He received his BS in Construction Management from Eastern Washington University. Michelle was born in England where her father was stationed in the military. She grew up in Clear Lake, SD and received an accounting degree from USD. She and Ty met in Spokane where she received her MBA at Gonzaga University.
Ty says, "Elvis is the King of Rock-n-Roll", which indicates he is a big fan. He enjoys music, coin collecting and spending time with his family.
_________________________________________________
Obituary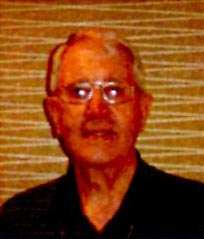 Robert Dale Stenberg was born Aug. 22, 1927 at Coleman SD, the third son of seven children born to Ove and Alma Stenberg, He graduated from Egan high school in 1945 and briefly attended Iowa State University at Ames, IA.
Bob married Arlene Satre Sept. 2, 1948. They raised three daughters, Candace, Roxanne, and Sheryl.
He served in the Air National Guard during the Korea conflict. Bob loved farming, his last farm being at Dell Rapids. He often included his crop reports in his corresponding secretary reports to SangerHilsen.
Bob also loved music, singing in his church choir and in Minnehaha Mandskor, receiving the gold-with-diamond award for Sangerfest participation.
Bob died April 18, 2013 after a long battle with cancer. He was preceded in death by his parents, one brother, one sister, and his wife Arlene.
He is survived by daughters Candice (Phillips) Trautman, Roxanne (Randal) Heimbuck, and Sheryl (Ronald) Kelso, three brothers, and one sister; eight grandchildren, seven great granddaughters, other relatives and many friends.
__________________________________________________
VOLUME 103, NO.2 DECORAH, IA Mar.-Apr. 2013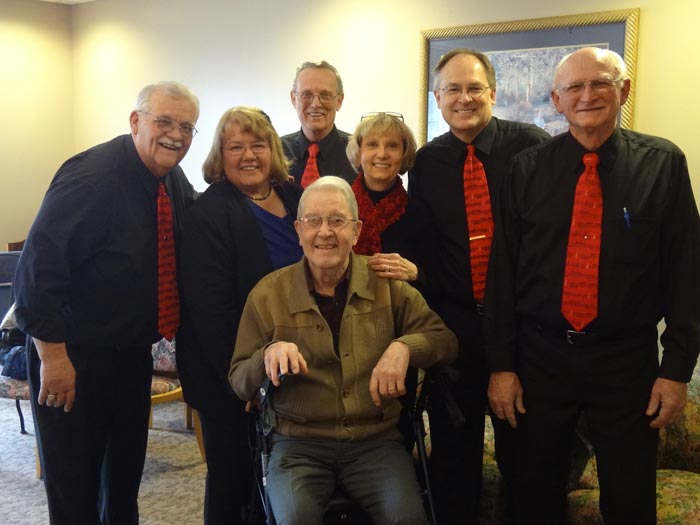 The Gospel Gold Quartet made a trip to Dell Rapids, March 24, to sing for long-time Mandskor member Bob Stenberg. Bob is living at Orchard Hills. Readers may recognize Bob (seated) as the Mandskor corresponding secretary to Sanger Hilsen for a number of years.
All the Gospel Gold members, Jake Van Den Hul (far left), Dennis Wollman (behind Bob), Bruce Duncan (subbing for Bill Hoffman) and Bob Viet (far right), are members of the Mandskor as well. Anita Preheim (widow of recently deceased Mandksor president Kirk Preheim) is the producer/scheduler/sound person for Gospel Gold, and Mandskor director Terry Walter (immediate right of Bob), and Bruce is second from right. [Ed. note. Bob Stenberg died on Thursday, April 18, 2013. His funeral was Wednesday, April 24th.]
______________________________________________
MINNEHAHA MANDSKOR
Sioux Falls, SD
Our chorus members were shocked and saddened to learn that our president, Kirk Preheim, passed away suddenly on Monday, March 4, at his home in Sioux Falls. His energetic, imaginative leadership and first tenor voice will be greatly missed. His memorial service was on Saturday, March 9, at First Reformed Church. The chorus sang for the service. Marlan Velgersdyk of Sioux Falls has agreed to step in as president. Norm Braak will continue as vice president.
The Mandskor is preoccupied with new music for the Sioux Valley Singers Sangerfest coming up on June 15. This festival will be hosted by the Grieg Male Chorus in Canton, SD, and promises to be another wonderful gathering of singers at Bethany Reformed Church in the Norwegian community of Canton. Lyle Kroon (Norse) and Lane Karli (Grieg) will conduct.
So far, we have had joint rehearsals at Nordic Hall in Sioux Falls (Norse Glee Club), and Immanuel Lutheran Church in Sioux City (Nordic Male Chorus). There are two more rehearsals...one at Active Generations in Sioux Falls (Minnehaha Mandskor). and the other at Canton (Grieg).
We have three new members since the last issue of Sanger Hilsen: Bill (Marta) Hoffman, first tenor, from Sioux Falls; Larry (Nancy) Meyerink, second tenor, Sioux Falls; and Ray (Juanita) Schnabel, baritone, Brandon. These men are most heartily welcomed. Bios will be forthcoming. We are looking forward to having snowbirds Roger Amdahl and Jerry Muchow return from their winter in Arizona.
On Monday, February 25 we gave a concert for an appreciative audience at Dow Rummel Village in Sioux Falls. We will sing at Luther Manor on Saturday, April 13, and at Orchard Hills in Dell Rapids on April 22. On May 17 we will be on the program for the annual Syttende Mai celebration. Further into the future, Mandskor will have a booth for the second time at the Sioux Empire Fair in Sioux Falls.
Bob Stenberg, senior member of Mandskor, is still suffering from cancer. His last series of treatments was unsuccesful. He is now living at Orchard Hills Assisted Living in Dell Rapids. Gospel Gold Quartet, whose voices are all from Mandskor, gave a concert for Bob recently.
Phyllis Van Den Hul, wife of Jake, has had a recurrence of her cancer. Norm Braak's wife Faye, is recovering from serious eye surgery.
Respectfully submitted,


John Rasmusson, Corr. Sec.